No plans on horizon for departed Motherwell boss Stuart McCall
Last updated on .From the section Football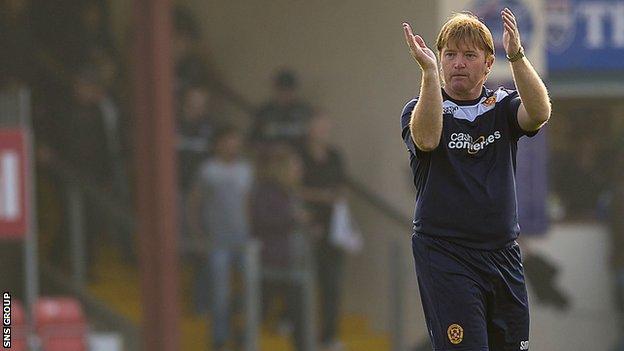 Stuart McCall insists he did not consider quitting Motherwell after guiding the club to second place in the Premiership last season.
Reflecting on his third consecutive top-three finish with BBC Scotland, McCall said: "I got a few messages saying well done now it's time to move on because you can't do any more.
"But never for one second did I feel that."
McCall, who turned down an approach from Sheffield United in May 2013, also revealed that he had resisted other offers from England during his time at Fir Park.
"I had a few other offers to move on, all south of the border," said the former Scotland midfielder.
"That doesn't mean you lack ambition.
Former Motherwell manager Stuart McCall
"I just felt maybe I'd lost a bit of that hunger and desire and I didn't want that to pass on to the players."
"I had chances to move on from Everton and Rangers when I was playing that would have been better for me financially.
"But I'm a great believer in if you are happy at your work, then stick at it. I have been treated fantastically well and I have great memories of my time with Motherwell."
McCall, who will continue as part of Scotland manager Gordon Strachan's coaching team, said that he had spoken to Crystal Palace boss Neil Warnock "on a few occasions regarding different things", with the two men having worked together at Bramall Lane.
However, McCall said he had no immediate designs on a return to football.
"I've not given it a thought," he explained. "I've been on the phone thanking people from all walks of life for their best wishes, which has been quite humbling.
"I look forward to meeting up with Scotland on Sunday.
"The family are settled where we are but you just don't know in football. Hand on heart, I've no plans for anything in the near future."
McCall took Motherwell to the 2011 Scottish Cup final, having arrived at Fir Park halfway through the season, but that was to be his best cup run by some distance.
"My one regret is not doing so well in the cups," he added.

He was also disappointed with the way news of his resignation was leaked.
"I wanted the chance to tell the players and staff before the news broke," said McCall. "But, unfortunately, one of the board members told someone and then it got out.
"I met up with each one of them yesterday and it was an emotional day. A few tears were shed."
Having performed so well for three seasons, Motherwell have won just two of their 12 league matches this term as well as suffering early exits in the Europa League and League Cup.
"We had a spate of injuries early on, which didn't help," explained McCall.
"But then, when the results didn't come, you could see a little bit of self-belief and confidence evaporate.
"There is still plenty of fight in the squad, I think that was evident in our last two performances against Aberdeen and St Johnstone.
"I just felt maybe I'd lost a bit of that hunger and desire and I didn't want that to pass on to the players.
"And sometimes when managers move on the club gets a lift and obviously I'm hoping that will be the case."