Arsene Wenger: Arsenal boss 'annoyed' at Anderlecht draw
Last updated on .From the section Football
Arsenal manager Arsene Wenger said he was "annoyed" at a "very disappointing" 3-3 draw with Anderlecht.
"We had a poor defensive performance from the first until the last minute. We never looked comfortable and we got punished," said Wenger.
"Annoyed? Yes. It is very disappointing. We were very poor."
Victory at the Emirates Stadium would have seen Arsenal qualify for the last 16 with two games to spare, but now they need a point from their final two games at home to Dortmund and away at Galatasaray.
Ever-present, but not for long
Arsenal are playing in the Champions League for the 15th successive season and have progressed beyond the group stage in each of the previous 14. However, they have won their group only twice since 2007 and have not reached the quarter-finals since 2010.
And, with Dortmund unlikely to be caught, Wenger's men look set to be unseeded in the draw for the first knockout round, hampering their chances to reach the quarter-finals for the first time since 2010.
"For winning the group, you can say that's nearly impossible now," added Frenchman Wenger.
"In the Champions League you need to be at your best mentally and we weren't today. Maybe subconsciously we underestimated Anderlecht at 3-0."
A penalty by Mikel Arteta and goals from Alexis Sanchez and Alex Oxlade-Chamberlain had the home side 3-0 up within the hour, but two from Anthony Vanden Borre - one a spot-kick - got the Belgians back in it before Aleksandar Mitrovic's last-minute equaliser.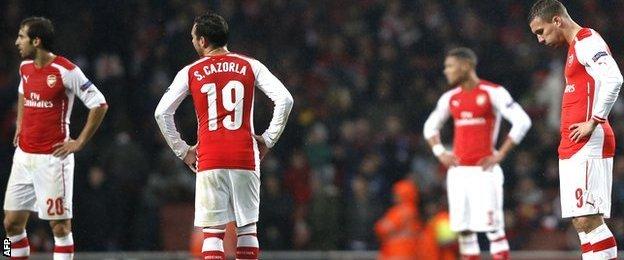 "There was a bit of bad luck because their first goal was clearly offside but we never looked good enough defensively," continued Wenger.
"It was a combination of fatigue and switching off. We dropped off and were always open. We didn't stop the crosses or the long balls."
Wenger, 65, also failed to shake hands with Anderlecht counterpart Besnik Hasi at full-time.
"I didn't get a hand [from Wenger] but I don't know [why]. I was running with my players to celebrate," said Hasi.
To compound Arsenal's poor evening, midfielder Arteta suffered a hamstring injury which is likely to make him a major doubt for Sunday's Premier League match at Swansea.
"I don't know how long he will be out for," said Wenger.