Europe, rabonas, Rose: Ben Davies on life at Tottenham
By Dafydd Pritchard
BBC Wales Sport
Last updated on .From the section Football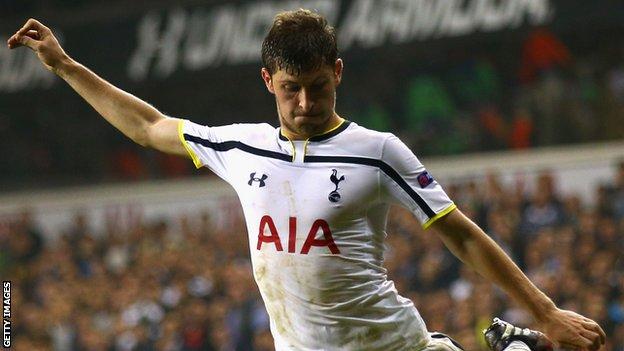 For such a laid-back player, it seems incongruous how the defining moments of Ben Davies's career seem to unfold in relative chaos.
Just a month later, Davies's first match for Wales was a tempestuous win against Scotland at a soaking Cardiff City Stadium.
And after an impressive couple of years at Swansea, his move to Tottenham in the summer was sealed in a whirlwind few days in America.
The transfer came as a surprise to Davies, who was on a pre-season tour of the United States with Swansea when the London club made a bid.
Having played for the Swans against Chivas Guadalajara in Milwaukee, Davies flew to Oregon to finalise the move and join Spurs, who also happened to be touring America.
"It was pretty hectic. It came out of the blue and, when the chance arrived, it was a pretty difficult one to turn down," says Davies.
"It was quite strange having to do it all when I was on pre-season in America, but we got there in the end."
As Davies reflects on his busy summer, the 21-year-old takes a moment to glance at his new surroundings.
Tottenham's training ground is impressive, a vast expanse of pristine playing fields, restaurants and players' recreational areas, which include a cinema.
Swansea may have built a new training base and developed on and off the pitch, but moving to London has felt like a step up for Davies.
"Off the pitch, the training ground is one of the best in in the country," he says.
"The competition for places in every position on the pitch is at a really high level.
"It's a challenge that improves me as a player and it's one I'm enjoying."
The battle for a first-team place has been particularly tough for Davies, who is currently behind Danny Rose in the pecking order for Tottenham's left-back berth in the Premier League.
Davies has made only one league appearance for Spurs, as a substitute for Rose in the 3-0 defeat by Liverpool.
The Welshman has featured regularly in the Europa League and League Cup, however, and is confident his time will come.
"I'm playing a game a week like I would be if I was still at Swansea", says Davies.
"I'm still getting 90 minutes under my belt at a good level.
"It [the Europa League] is still a good competition and one where we really want to push on, and hopefully we can do well in that competition."
A viral 'rabona' reaction
It is in the Europa League where Davies has arguably had his most memorable moment in a Tottenham shirt to date, albeit not strictly for his playing exploits.
Erik Lamela scored one of the most outrageous goals in recent memory in the 5-1 win against Asteras Tripolis, a stunning 'rabona' strike where the Argentine wrapped his left foot around the back of his right leg to curl the ball in from 20 yards.
The goal was replayed worldwide for days, and Davies's reaction inadvertently also went viral as he was pictured with his hands on his head in amazement at Lamela's brilliance.
"It was quite surreal to see someone try that and to see it go in as well," says Davies.
"That doesn't happen too much, seeing something like that. It was pretty shocking.
"I don't think that's coming off too many times again. It's a one-in-a-million kind of thing."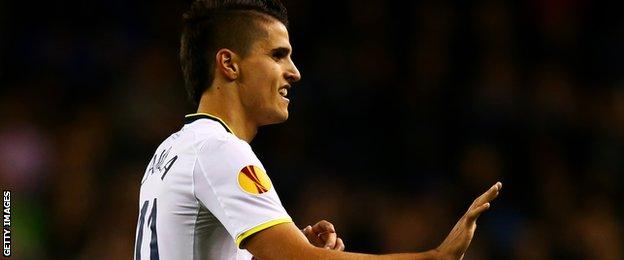 The waiting game
Although Davies has impressed in the Europa League, he has had to bide his time in the Premier League.
It has been a similar tale for fellow summer arrivals Federico Fazio, Benjamin Stambouli and Michel Vorm, who joined Tottenham as part of the same transfer deal as Davies.
With a new manager at the helm at White Hart Lane in Mauricio Pochettino, Davies is willing to be patient for his opportunity.
"The manager will realise what type of player he's got," he says.
"I think it's down to you and your drive to do whatever you can in the game.
"It comes from inside you, not what other people tell you what you are.
"If you believe in yourself and believe in what we can do, the chances hopefully will come and then you've got to be ready to take them when they do."
You can see more of the interview with Ben Davies on Sport Wales on BBC Two Wales on Friday, 7 November at 19:00 GMT and on the BBC iPlayer.