Artificial pitches: Clubs fail to vote for a return to plastic surface
Last updated on .From the section Football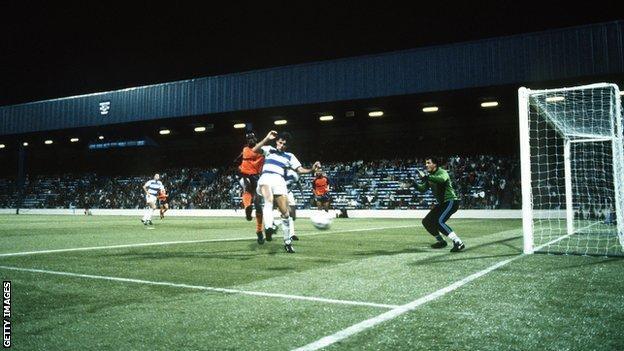 Artificial pitches will not be allowed in Leagues One and Two in 2015-16 after a tied vote by club chairmen.
The outcome was a surprise after a majority had indicated in September they would vote in favour of permitting the use of plastic playing surfaces.
At Thursday's meeting, 34 chairmen voted in favour of artificial pitches, with 34 against and four abstentions.
"This issue divides opinion amongst clubs," said Football League chief executive Shaun Harvey.
"While the outcome is different to previous indicative votes, it demonstrates that there is still a desire amongst clubs to find out more about artificial playing surfaces before taking such a significant step."
3G or not 3G?

3G pitches consist of artificial blades supported by sand and rubber crumb

They can be laid on various shock absorbing bases to suit different sports

3G pitches cost around £500,000 to install

They can be used in all weather
Clubs were balloted on whether to permit 3G ("third generation") surfaces in their competitions from next season.
Artificial surfaces were outlawed from professional football in 1995 over issues with ball roll and injuries.
However, they can be used in the FA Cup and at Conference level.
Advocates say that the pitches, which cost around £500,000 to install, represent good value and could produce vital revenue streams for clubs who struggle to make ends meet.
At a meeting in September, chairmen were shown a presentation on the pros and cons of 3G surfaces and asked to take an indicative vote.
A total of 29 out of 46 clubs in the Football League's bottom two tiers said they would back the reintroduction, and league and club sources had been confident that the motion would be formally passed at Thursday's summit at Derby County's iPro Stadium.
The cost of plastic
Installation costs between £300,000 and £500,000 and takes 8-12 weeks to complete
Additional revenue from an artificial pitch, based on 40 hours use per week, would be worth around £165,000 a year
It takes eight weeks to return to a grass pitch and costs around £150,000
The Professional Footballers Association (PFA) had voiced its opposition to plastic pitches and made it clear it was against the proposal.
Speaking after Thursday's tied vote, assistant chief executive Simon Barker said the players' union was "surprised but happy" that artificial pitches would not be permitted.
"We did a survey two years ago from our membership, the professional players who actually play, and they were overwhelmingly against playing on the artificial surfaces," Barker told Radio 5 live.
"One chairman said he could sell his training round and train on an artificial pitch all week and then play on a Saturday.
"But a number of our members said that would be their career over because they couldn't play on that surface."
The former QPR and England Under-21 midfielder added that there had been no studies into artificial surfaces and the long-term impacts on player health.
Michael Dunford, chief executive of League One Crawley Town, told BBC Radio 5 live he had voted in favour of plastic pitches.
"We, and a number of others, voted for the clubs to have the right to choose their own pitches," he said.
"We are looking to re-turf our pitch this season but after that we would like to have the choice of whether we could have a 3G pitch or not. I'm sure the issue will surface again."
Artificial pitches are commonplace in Europe and have been used in Champions League matches and European Championship qualifiers.