Man City v CSKA Moscow: Manuel Pellegrini's side at 'new low'

By Phil McNulty
Chief football writer
Last updated on .From the section Football1223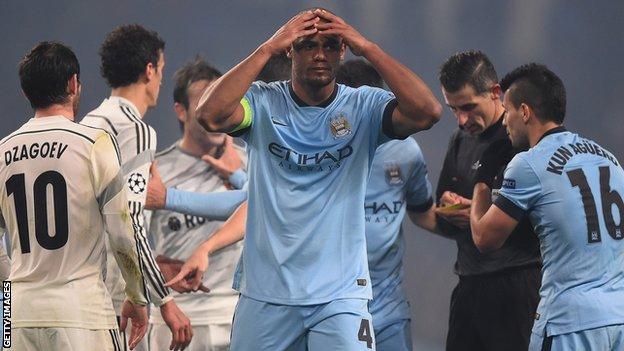 As the Bonfire Night fireworks designed to set the mood faded away and a heavy mist descended on Etihad Stadium, Manchester City and manager Manuel Pellegrini were lost in the fog of failure and uncertainty that engulfs them in the Champions League.
The last time the pyrotechnics flew over this stadium in celebration of 5 November, City were experiencing one of the few real joys they have had in this tournament as a 5-2 victory over CSKA Moscow secured a place in the last 16.
Fast forward exactly 12 months and those same opponents, dismissed so comfortably last season, won 2-1 to illustrate how City's apparent mental block in the Champions League has taken them backwards to the brink of an exit at the group stage.
City are virtual strangers to the highs the Champions League has to offer - and this was their lowest ebb.
The loss means that City could still be eliminated even if they win both of their remaining games - at home against Bayern Munich at home, where they will be without Fernandinho and Yaya Toure who were sent off on Wednesday, and Roma away.
City have a narrative of failure in the Champions League and the story does not change - although it has several strands and sub-plots running through it.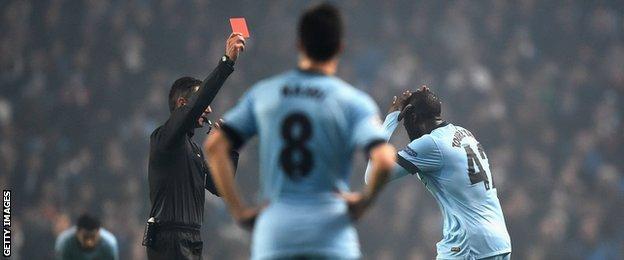 Pressure on Pellegrini
If City do fail to progress the scrutiny and pressure on Pellegrini will increase, simply because a club with this scale of ambition makes big demands on a manager.
There is no appetite, however, to question his position even if they go out at the group stage, although it is believed City's Abu Dhabi-based owners regarded the quarter-finals as a realistic target this season.
They feel it will take City five years to reach full fruition in the Champions League - but there can be no question they would have expected better than no wins and just two points from four games, topped off by a home defeat to the side regarded as the weakest in Group E.
A squad reduction imposed by Europe's governing body Uefa after failing to comply with Financial Fair Play (FFP) regulations, which also hit at their powers in the transfer market, is seen as a factor in their struggles. This still does not fully explain how they appear to have regressed so much.
City were fined £49m, £32m of which was suspended, and could only name a 21-man squad for the Champions League. Another sanction meant City were limited to spending £49m on players this summer, as well as any transfer fees they received, and their wage bill for 2014-15 had to stay the same as last season.
Pellegrini was at a loss to understand how this campaign has gone so badly wrong again for City, saying he would "review a lot of things" and admitting "I don't understand why they cannot play in the Champions League."
If the solution to this puzzle has eluded him over two seasons, it is stretching reality to expect him to come up with the answer inside three weeks.
An exit means Pellegrini will come under the microscope more intensely than at any time since he succeeded Roberto Mancini and will need success in the Premier League to release the pressure valve.
Manchester City's recent European fortunes
2013-14: Champions League round of 16 - beaten by Barcelona
2012-13: Champions League group stage
2011-12: Europa League round of 16 (having finished third in Uefa Champions League group stage)
2010-11: Europa League round of 16
2009-10: Did not qualify for Europe
2008-09: Uefa Cup quarter-finals
Crisis of confidence
This was the phrase Pellegrini used to describe City's current state of mind -and it was evident almost from the first whistle on Wednesday.
When City should have been on the front foot, Toure's dreadful marking allowed CSKA's Seydou Doumbia to score after 96 seconds. Toure's equaliser gave false hope as Doumbia took advantage of more defensive slackness to score the eventual winner.
This gave CSKA the first away win by a Russian side in England in the Champions League since Spartak Moscow beat Blackburn Rovers in September 1995.
City should have been on the up after ending a mini-slump with a victory over Manchester United in the derby, but they were disorganised at the back, lacked domination in midfield and even the brilliant Sergio Aguero struggled to exert his influence.
Gael Clichy had a nightmare at left-back and CSKA cut through midfield into large gaps with City stretched all over the place in defence. The self-belief that made City champions at home appears to evaporate in Europe.
The mood of failure is insidious. It has made City's fans as anxious and pessimistic as their team, creating a subdued atmosphere inside Etihad that only enlivened with increased adversity for the nine men in the closing stages.
City have players of experience, talent and character. Sadly, they have not been good enough in the Champions League and Pellegrini has failed to crack the code for success.
Statistics tell the tale
City's Champions League record since returning in 2011 is - played 24, won eight, drawn six, lost 10. At home they have played 12 ,won four, drawn five and lost three.
They have not kept a clean sheet in any of their nine home games in the Champions League since the start of the 2012-2013 season and are winless in their last six games in Europe - drawing two and losing four - their last win coming away to Bayern Munich almost a year ago.
Cut this any way you like and it is nowhere near good enough for a squad that has had so much finance lavished on it by its owners.
After winning the Premier League twice in three seasons, the next logical step was to make a mark in Europe's biggest tournament. Barring a turnaround even their most optimistic fans will struggle to see happening, it will have to wait for another year.
Manchester City's Champions League struggles

City's first foray into the Champions League group stages saw them finish third in a group with Bayern Munich, Napoli and Villarreal in 2011-12. Napoli edged them out for last 16 qualification by a point.

In 2012-13, having been crowned Premier League champions the year before, City finished bottom of their Champions League group which included Borussia Dortmund, Real Madrid and Ajax.

They dropped in to the Europa League in the same season and were eventually knocked out on away goals to Sporting Lisbon in the last 16.

City eventually made it out of the Champions League groups last season, but were knocked out in the last 16 by Barcelona, 4-1 on aggregate.
Conspiracy theories
Uefa felt the full force of Etihad's anger - as did Greek referee Tasos Sidiropolous - at the final whistle, seemingly a combination of FFP penalties, the failure to allow City's fans to watch the behind-closed-doors game with CSKA in Moscow and some eccentric officialdom.
Sidiropolous had an odd night, especially when a case of mistaken identity meant he showed a yellow card to defender Sergei Ignashevich when it should have gone to midfielder Pontus Wernbloom, who had already been cautioned.
Pellegrini, to his credit, insisted he would not link the referee's performance to the result and this was one thing he did get right. Asked whether this reminded him of his night of rare rage when he claimed Swedish referee Jonas Eriksson favoured Barcelona in their 2-0 win, he would not concur.
This was not a night for excuses and Pellegrini avoided making any.
City, were disorganised and ill-disciplined. Fernandinho or Toure can have no complaints about the red cards that were not just damaging, but also for their hopes of beating Bayern Munich.
This was about City's failings rather than the officials. Any suggestion that the referee was not good enough can be matched by the assertion City were not good enough either.
Can City still get through?
Well yes, if they win those last two games. The maths may stack up but the logic does not.
City did not offer one shred of evidence here that they have what it takes to get through. This was a night to jog the memory of those City fans with a finely-tuned sense of black humour, shaped in the days when just about everything that could go wrong did go wrong.
The club have been masters of the unexpected in the past but if City struggle and slump to defeat to CSKA, can they seriously be expected to unseat Bayern?
There may be hope in that Bayern have already won the group but it is unlikely coach Pep Guardiola deals in weakened teams, although there may be a psychological impact.
So the chance remains, but the mood was sombre and resigned around Etihad as Pellegrini searched for Champions League answers that have eluded him and his players.