Mark Aizlewood: Carmarthen Town boss comeback scuppered by fire
Last updated on .From the section Football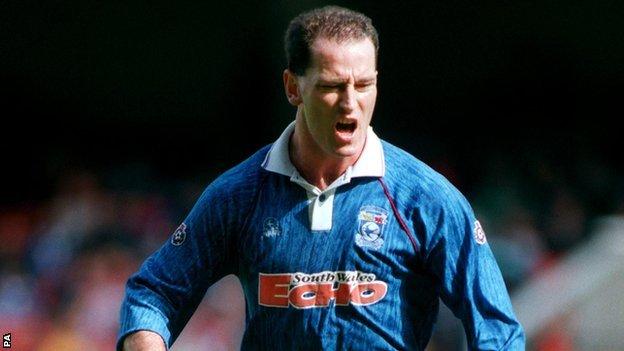 Carmarthen Town boss Mark Aizlewood's playing comeback at the age of 55 has been scuppered because of a fire at the Corbett Sports Stadium.
Saturday's Welsh Premier match between Rhyl and Carmarthen has been postponed due to the blaze in the boiler room area of the dressing rooms.
It caused electrical damage and affected the water supply.
Aizlewood was considering including himself on the bench because of an injury crisis.
"I don't think I have much choice. We have an injury crisis and two suspensions," he told BBC Wales Sport.
The former Leeds United, Charlton Athletic, Cardiff City and Wales defender retired in 2002.
A Welsh Premier League spokesman later confirmed that Aizlewood would not have been eligible to have played, even if the game at Rhyl had gone ahead.
The former Welsh international would have had to have been a contracted player at the end of his term at Cwmbran Town 12 years ago in order to play for Carmarthen outside the transfer window.