Celtic's Tonev comments irk Aberdeen manager McInnes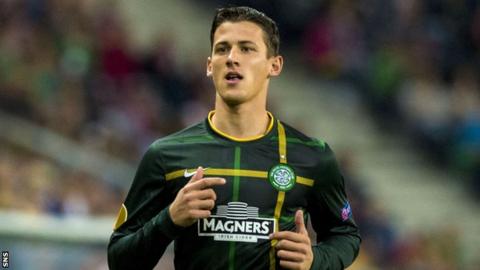 Aberdeen manager Derek McInnes believes Celtic manager Ronny Deila and captain Scott Brown were wrong to say Aleksandar Tonev did not make a racist remark to defender Shay Logan.
Deila and Brown have both denied that Tonev made the comment, despite being found guilty by the Scottish FA.
"For Scott and his manager to say that he didn't say it is wrong," said McInnes.
"It's clearly wrong - because they weren't in a position to know that."
McInnes added: "I think team-mates will always defend each other and you could say it could be admirable, it's the thing to say to stick up for your team-mates."
Celtic have appealed against Tonev's seven-match ban for racially abusing Logan after the Bulgarian was found guilty of "excessive misconduct" following an incident in a 2-1 win over Aberdeen in September.
Tonev's ban only applies to domestic matches and, now that an appeal has been lodged, he is free to play in domestic games until the appeal is heard. He also travelled to Romania for Celtic's 1-1 draw in the Europa League against Astra Giurgiu, but did not feature.
McInnes said he will have no qualms about playing Logan in Sunday's Premiership encounter with Celtic at Pittodrie.
Derek McInnes, Aberdeen manager
"We thought it had been dealt with - he was found guilty of an offence - we felt Shay was vindicated with that and we support him wholeheartedly"
"We've got to remind ourselves that Shay was the one that had the offence put on him and that can sometimes be forgotten," said McInnes.
"We can't decide or dictate what Celtic do, but from my point of view Shay's performances have been good since the last Celtic game - he's been excellent - so he'll be fine.
"I have total trust that he'll come in and give us his usual solid performance. I just want to remind people again that Shay is totally innocent in all of this.
"We feel as though we're trying to draw a line under it but while there's an appeal that can't be the case.
"We're eager to get it finalised and dealt with. We thought it had been dealt with - he was found guilty of an offence - we felt Shay was vindicated with that and we support him wholeheartedly. We've kept a dignified silence on it, as we were requested.
"But it hasn't always been the case coming from Celtic. From our point of view, we want to concentrate on the game.
"There's so much to look forward to, it's such a good game to look forward to, but unfortunately it's still hanging about - but hopefully not for too much longer."
Speaking before departing from Bucharest, Deila insisted Tonev is "mentally strong", although he has still to decide whether the player will feature on Sunday.
Assistant manager John Collins said the travelling party would be chosen on Saturday.
"Of course he's entitled to his opinion and we're entitled to our opinion," he said about McInnes' remarks. "That's as much as I want to say on the matter."