Jose Mourinho: On Costa, Liverpool, the title race, and more
Last updated on .From the section Football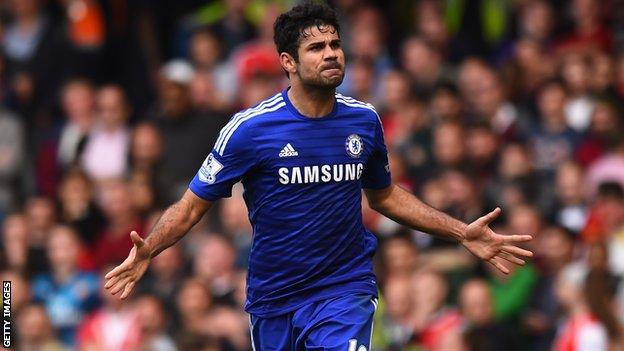 Chelsea boss Jose Mourinho says Diego Costa will start against Liverpool in the Premier League on Saturday.
The Spain international had been suffering with a hamstring injury and a viral infection and only featured from the bench against Maribor in midweek.
In his news conference on Friday, Mourinho said: "As a consequence of the work we have been doing, we think he is ready to start the match."
Costa is Chelsea's leading scorer with nine goals so far in the league.
Despite his return to fitness, Costa has not been called up by Spain for their upcoming internationals against Belarus and Germany - a decision welcomed by Mourinho.
The Chelsea boss said: "In the 15 days [international break] he can rest and work. It is fantastic news for us.
"I thank the Spain FA for the decision that they made, but I did nothing to make it happen.
"The plan is to have a period of complete rest after the [Liverpool] match for a few days, and after that to continue the specific [recovery] work he is doing."
Mourinho on Liverpool this season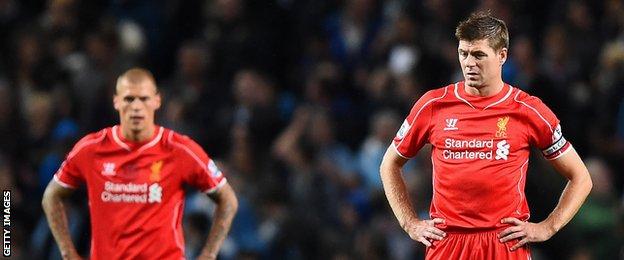 "In the Premier League, I am not surprised with anything.
"Every match is difficult, you don't know when people are going to lose points. After the World Cup it's difficult, you don't have time to have a proper pre-season.
"I think they're fighting for the title the same as we are."
Mourinho on the Anfield atmosphere
"The crowd can influence the match in a big way at Anfield.
"I like to play there, but I have to say that some people feel the atmosphere in a negative way.
"It doesn't affect my players' performance, but in the past we have clear examples of it affecting other performances, goals that are not a goal, penalties that are not given."
Mourinho on the title race
"Everyone that wants to be, everyone that feels they can be [is still in the title race].
"Is Southampton unexpected to be there? Maybe yes, but do they deserve to be there? Yes. Can they decide that the title can be for them? It's up to them.
"Apart from that, all the traditional teams [are in contention]. A distance of four, five or six points or eight or 10 at the beginning of November doesn't put somebody out of the title race."
Mourinho on Steven Gerrard's slip
"[The match at Anfield last season] gave the title to Man City. It's as simple as that.
"If Liverpool had got a point in that match, they would have been champions. Without it, they lost the title. It meant nothing to us.
"That match, for us, meant just professional pride you have to go for every game and try to win, but we were not in the race. It was just a match that gave the title to Man City."
Mourinho on Liverpool selling Luis Suarez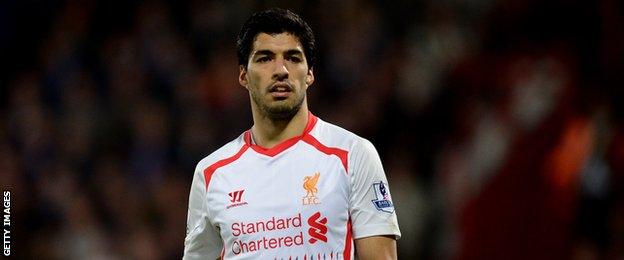 "Obviously [he is] a very good player and when you lose a good player you lose something.
"But [Liverpool] had fantastic funds to invest in a new squad. They improved it a lot, they bought so many important players, all of them internationals.
"So they invested very good and I think their potential is there."