Sergio Aguero: Man City hero's journey from the 'cave of vipers'

Last updated on .From the section Football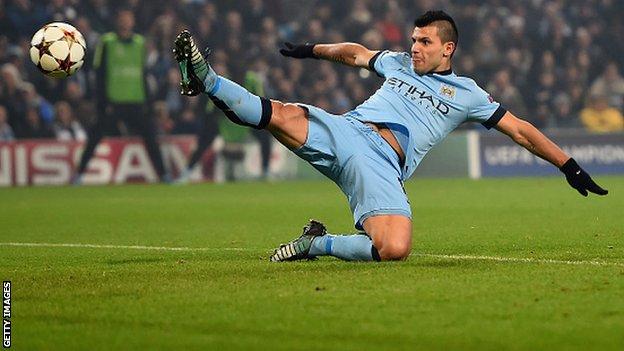 A broad smile spreads across Sergio Aguero's face as he stares down on the pitch where he has created moments of history in the sky blue of Manchester City.
Beyond the window lies the damp murk of an autumn afternoon in the north. But what soon becomes clear is that the boy from Buenos Aires feels very much at home here.
Aguero lights up a bustling room high in the stands at Etihad Stadium. A difficult defeat the night before is put to one side. He is polite, charming, warm and open. A young man who, as his friends testify, has never forgotten where he has come from. A man who approaches football, as he does his wider life, with total commitment.
The surroundings are a far cry from the crowded dirt pitch in the in Los Eucaliptos district of Buenos Aires where he first kicked a football. But for now, this is home.
"I am so happy here," he says. "I find life so calm, very different to when I played in Spain. The only things I miss from home are my son, my family and my friends."
Aguero's little boy has accompanied him today. Five-year-old Benjamin Aguero, the grandson of Diego Maradona and the godson of Lionel Messi, plays on the floor near his father's feet, transfixed by a Remembrance Day poppy. The Manchester City striker is here today to discuss his new book - Born to Rise - which charts his journey from the streets of Argentina to footballing superstardom in Europe.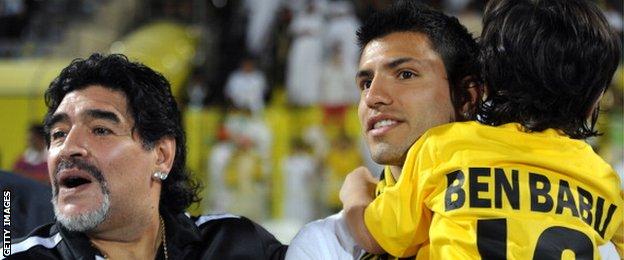 "Time has passed but my love for the game is as it was when I was a boy," he says.
Outside the stadium, hundreds of fans have queued through the night for the chance to meet their hero. Only 150 will be given the chance. On a bitterly cold, wet Manchester night, many began to wait immediately after the final whistle of the CSKA Moscow defeat the night before. They will not get to meet Aguero until 4pm.
Another Champions League disappointment of the defeat by CSKA is still on his mind, as the stadium cleaners sweep the aisles clear of paper cups a few yards away.
"Obviously in the Champions League, we are not currently in the position we want to be, it's not what we were expecting," he says."
"The only thing we can do is to keep going. We still have two games to play and we have to win both of those, and then wait and see.
"Of course, we understand the people who have been criticising us, because the club invests in some top quality players and with that the fans clearly want to see more from us. The fans expect more. I do think we can still turn it around though."
It will take more than a few defeats to shake Aguero's self-belief. The fans waiting outside will meet a man who believes, wholeheartedly, he was born to play football.
"In the barrio where I lived as a young boy, there was a football pitch right by my house," he says. "It was a very unique and unusual story that I only had to step out of my house and the pitch was right there for me to just go and have a kick about.
"I have always loved football. That I'm here today is, I think, down to all the hard work put in and all the time spent at the age of five kicking a football around."
Aguero's family was poor. The neighbourhood was known as La Cueva de las Viboras, or 'the cave of the vipers.' The family home was surrounded by dirt roads; dusty in the summer, muddy in the winter. The nearest tarmac was 400m away. His house had a sheet metal roof, a cement floor and one double bed. The family had a makeshift wardrobe made out of bricks and wood, a hole in the ground for a toilet.
Sergio Aguero - the story so far

Club

Appearances (all competitions)

Goals

Independiente (2003-06)

54

23

Atletico Madrid (2006-11)

199

83

Manchester City (2011-present)

137

87
His arrival into the world was also uncomfortable. "It was going to be difficult for my mother to give birth and the doctors decided that to make this possible they would have to break my collar-bone," he says.
"So that's what happened and I was then kept in hospital for two months until my bone had mended. And then I went home."
Aguero's father, Leo, was a talented footballer. But, at the age of 27 he stopped in order to put his son's fledging career first.
"He took me everywhere, from one pitch to another," says Aguero. "It seemed normal to me, having him by my side. But now I am older I realise not all fathers were able to do what he did. I got the luck he never had."
It was in his formative years that the nickname Kun stuck. It was inspired by a Japanese cartoon character that Aguero, the toddler, would be captivated by. The character was called 'Kum, Kum' but it was Kun that stuck. And is now stuck on the back of his shirt.
When he was nine, he joined Independiente. At the age of 15 he became the youngest-ever player in Argentina's Primera Division, breaking a record held by Maradona. Another young boy from Argentina watched on. His name was Messi.
"I can clearly remember the first day that I saw Kun, that moment has remained etched in my memory," Messi writes in the foreword for Aguero's book. "Back then I didn't know who he was or even what he was called, let alone that I would later meet him in person or that, from then on, we would become great friends."
They remain great friends. The best of friends. Their scoring records are astonishing.
Aguero scored 23 goals in 54 league games for Independiente, a further 75 in 175 for Atletico Madrid and has added 62 goals in 81 league games since being lured to City in the summer of 2011. In terms of minutes per goal, Aguero is comfortably the top striker in Premier League history.
Messi knows all about rewriting the record books, with 250 goals in 248 league starts for Barcelona. Their brilliance bonds them together and has done since 2005 when they were the two youngest players in the Argentina Under-20 squad.
"We roomed together at the Under-20 World Cup in Holland and we hit it off really well. So from that moment on, we have always shared a room together," Aguero says.
A few years ago, the Argentina fitness coach suggested the players have their own rooms. Messi, though, asked to continue sharing with Aguero. "Don't worry we are just friends," he writes in the book. "When he is asleep I have to tiptoe to the toilet and stop my phone from vibrating in case it wakes him up. He is like a brother."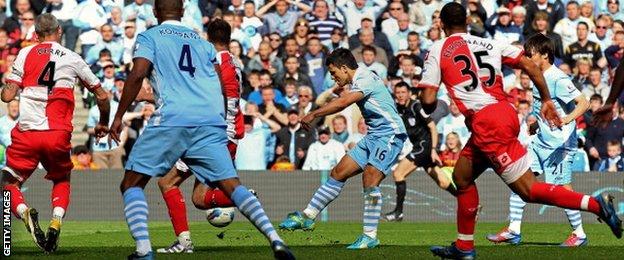 And yet, while Messi has found his home from home in Catalunya, Aguero has found his in Cheshire. This is a man who enjoys the cold and the rain. He likes to take his son fishing in the nearby lakes, he likes to play golf, he likes to slip through the Trafford Centre crowds with a cap pulled low over his eyes. The truth is that the 26-year-old is rarely hassled even by those who do spot him walking past.
Aguero is more than a player in these parts. He is a moment in history, a name that will live on long after he has left the club, thanks to a single, precious goal on May 13 2012. City play Queens Park Rangers, the opponents on that day, this weekend.
"Whenever the name QPR gets mentioned, memories of that day come flooding back," he says. "It was a historic moment and for me it was a really special moment after all the years I've spent playing football.
"But, we are playing them this weekend again, and while of course every game is tough in the Premier League let's hope we can pick up a good result there. But, that QPR goal will go down in history for me."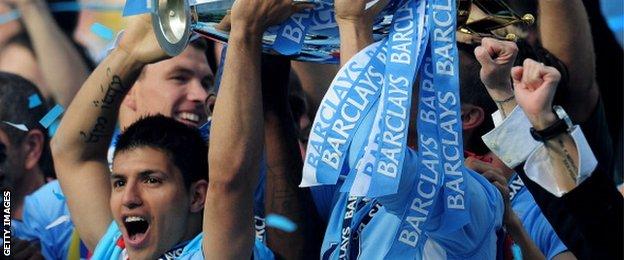 In scoring a goal that clinched City's first title in 44 years, Aguero scored a goal to define a career, a truly dramatic moment that may not be bettered.
Or can it?
"Yes I think so," he says with that familiar winning smile. "I'm still very young and I believe you can always keep improving year on year.
"I'm at the age where I have been playing the game now for a few years in the top flight but there is always something you can improve on. So I can always use that to help me to get better."
And what of the future? Cristiano Ronaldo, Luis Suarez and Gareth Bale are world stars who have swapped England for Spain in recent years. So will Aguero follow?
"I'm really happy here," he says. "The club and the fans have treated me very well since I arrived.
"I'm into my fourth season now and this place is like home for me. I have four years left on my contract, my plan is to see it out. I'm very happy to stay here and continue making history for this club. It's a great experience."
Aguero's words are convincing. They do not have the ring of a man saying the right things, even if there is a steel behind his eyes. He is, though, humble and respectful. A man who likes his privacy, a man of his word. A father first, a footballer second.
Before he leaves the room, he shakes hands with everyone in it, saying thank you in his broken English. His son Benjamin also shakes a hand or two. And then Aguero is gone, off into the evening gloom to light up the lives of 150 fans clutching the hand of the boy who lights up his own. "My son is the light of my life," he says.
"When I look into his eyes I see the boy I was and everything that is still to come."
You can watch the full Sergio Aguero interview on Football Focus, Saturday 8 November, 12:20 GMT on BBC One and the BBC Sport website.