Aleksandar Tonev: Ex-ref Kenny Clark calls for SFA explanation

By Jonathan Sutherland
BBC Scotland
Last updated on .From the section Scottish Premiership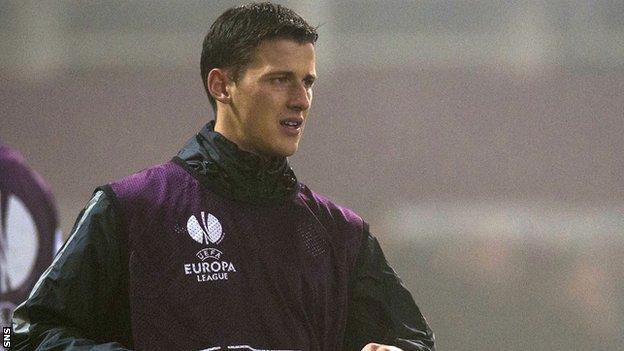 Former referee Kenny Clark wants the Scottish FA to explain its decision to find Celtic winger Aleksandar Tonev guilty of racial abuse.
The Bulgarian was given a seven-game ban for abusing Aberdeen's Shay Logan.
"At the moment, we don't know the basis on which they arrived at the decision," Clark, a lawyer, told BBC Scotland.
Celtic have appealed against the decision, meaning Tonev, 24, is eligible to face Aberdeen in Sunday's Scottish Premiership game at Pittodrie.
Former Grade One referee Kenny Clark
"The risk here is that they could face a large number of cases, potentially, where players, when they fall out with another player, simply then make an allegation against that player."
Tonev was found guilty of "excessive misconduct" following the incident in Celtic's 2-1 win over Aberdeen on 13 September.
The Scottish champions have yet to decide whether to include the Bulgarian in their squad, but Dons manager Derek McInnes has insisted that defender Logan will definitely play.
Meanwhile, the public insistence by Celtic counterpart Ronny Deila and captain Scott Brown that Tonev, on loan from Aston Villa, is innocent has angered the Aberdeen boss.
Clark, who retired from refereeing at the end of the 2007-08 season, said that "for any system of justice, we need justice to be seen to be done".
He added: "The SFA website simply tells us that they found the complaint established and they don't explain how that came about and why they preferred the version by Shay Logan to the version offered by Aleksandar Tonev.
"I think that's a dangerous road to go down if people are going to say, simply because an allegation is one of some gravity, it must therefore be true."
Clark explained that the SFA was following its own constitution and rules of association, which uses the balance of probabilities, the standard applied in Scotland's civil courts, rather than the criminal courts' standard of reasonable doubt.

"The problem is that the test is balance of probabilities," he said. "It is not like in a criminal court where things must be established beyond reasonable doubt.
"And, essentially, I think it would be helpful for all concerned if the SFA would explain why they preferred that version to the other version.
"I think the SFA are caught between a rock and a hard place.
"On the one hand, they must be seen to take any allegation of racial abuse seriously, they must be seen to deal with these things in an appropriate manner and I don't think they wanted anyone to think for a moment they were soft-soaping on this or backing off because it was one of the Old Firm clubs.
"The other side of it, however, is that they must deal with each case fairly on its merits.
"The risk here is that they could face a large number of cases potentially where players, when they fall out with another player, simply then make an allegation against that player and the SFA then has to choose between who is more convincing when it comes to a disciplinary hearing."
Clark pointed out that it was unclear whether Celtic's appeal was against the original decision or against the length of the suspension.
However, he believes the Glasgow club will launch a "two-pronged attack" - against how the decision was reached and the severity of the penalty.
An SFA spokesman told BBC Scotland: "We will follow due process until the appellate tribunal has been concluded.
"As per the judicial panel protocol, note of reasons must first be submitted to the club prior to appeal."