QPR v Man City: Charlie Austin goal ruled out for Joe Hart error
Last updated on .From the section Football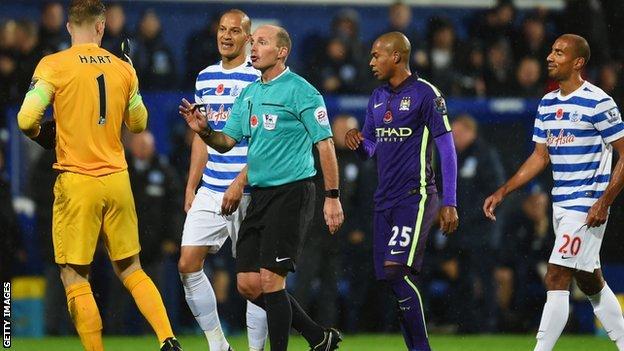 Gary Lineker said he has never seen anything like it, Joe Hart was the coolest man in the room, Charlie Austin was celebrating, albeit on his own.
He profited from Hart's botched free-kick but the City keeper had inadvertently taken two touches of the ball, an error which saw the home side's goal chalked off.
"I knew the rules and touched it twice," said a cool Hart afterwards. "I'd touched it twice with my feet obviously. It's a mistake and not ideal but rules are rules.
"I was looking at Mangala to pass to him because I was aware of Charlie and it hit my right foot and left foot and went straight to him."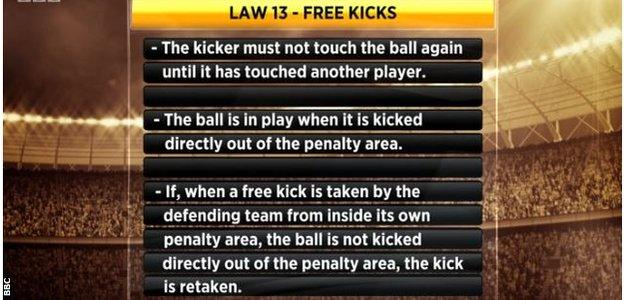 As Hart's first touch of the ball did not leave the Manchester City area, the free-kick - given because Austin had just scored another goal ruled offside - rightly had to be taken again under the instruction of referee Mike Dean.
Asked if he knew of Hart's double touch, Austin, 25, told Sky Sports: "Didn't you see from my celebration? I turned around and no one was with me. When I looked back, everyone was around the ref.
The former Burnley striker was involved in everything in a first half in which he did eventually score legally - his fourth goal in three league games - but it was the second of his disallowed efforts which had experts reaching for the rule book.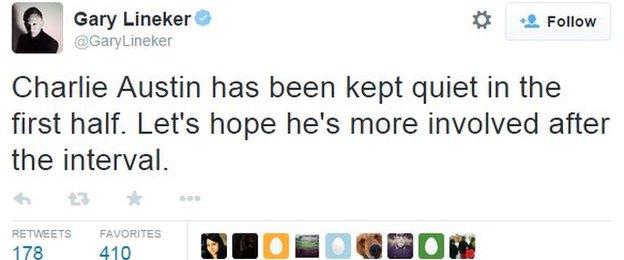 "Bizarre goings on at Loftus Road. Austin has two goals disallowed in seconds. The latter for an incident I don't think I've ever seen before," tweeted Gary Linker.
QPR manager Harry Redknapp added: "I didn't realise he had two touches. It's a bit harsh when you look at it. You don't get punished for making a real mess up like Joe did there but if that's the rule then that's the rule."
Redknapp's side lost the lead to a wonderful Sergio Aguero finish but Austin's cross led to a Martin Demichelis own goal in the second period to gain a lead which was again cancelled out by Aguero late on.