David Moyes: Challenges for ex-Man Utd boss at Real Sociedad
By Andy West
Spanish football writer in Barcelona
Last updated on .From the section European Football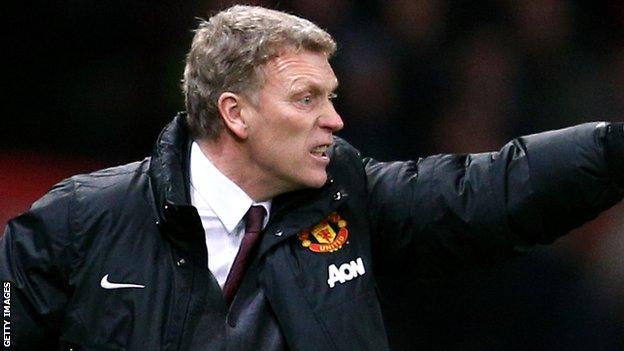 A year ago last week, David Moyes returned to Manchester from his second Champions League away game as United manager satisfied with a hard-earned goalless draw against dangerous opposition.
Back then, he would probably never have believed that the opposition his United team had held that night in northern Spain would become his next managerial destination.
But Moyes has now relaunched his managerial career by taking over at Real Sociedad, who have plummeted from Champions League contestants to relegation zone strugglers in the space of a year.
His new job comes with a huge number of challenges for the Scot - but there is plenty of room for optimism too.
Sociedad - the Spanish Everton?
In many ways, Moyes should feel comfortable in his new environment because there are some striking similarities between Real Sociedad and Everton - and not just the fact that their colours are blue and white.
Like the Toffees, 'La Real' are a provincial northern club with a good track record of developing local young players who have enjoyed a fair amount of success over the years, despite being forced to live in the shadow of more famous local rivals in red (Athletic Bilbao).
And like Everton, the general perception of Real Sociedad within Spain is of a well-run, stable and solid mid-table club, strong enough to ensure they rarely find themselves ensconced in relegation battles but lacking the necessary funds to regularly compete seriously for major honours.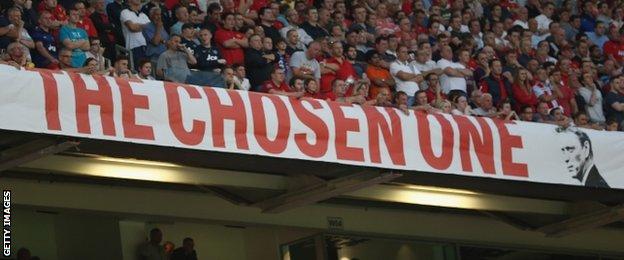 The last trophy claimed by the Basque club came when they defeated Atletico Madrid on penalties to win the Spanish Cup in 1987 - exactly the same year as Everton's most recent English league title triumph.
One more similarity (although Everton fans may dispute this point), and which Moyes will be quickly forced to accept, is that Real Sociedad are the quintessential 'selling club', recently losing star players Antoine Griezmann (to Atletico Madrid), Claudio Bravo (Barcelona) and Asier Illarramendi (Real Madrid) because they simply did not have the financial power to resist the calls of big boys.
Never boring in San Sebastian
It has been an unusually eventful few years for the San Sebastian-based club (their name, which translates as the rather grandiose 'Royal Society', has nothing to do with their geographical location in the attractive Basque city).
After suffering their first relegation for half a century in 2007, La Real wasted little time in bouncing back into their accustomed place in the top flight in 2010.
A couple of mid-table finishes later, French coach Philippe Montanier led his adventurous, attack-minded team through an exciting 2012-13 campaign, culminating in a fourth-placed finish and a return to the Champions League for the first time in a decade.
David Moyes's journey
Started his playing career at Celtic and finished it at Preston, where he played alongside young loan signing David Beckham between February and March 1995
Ten months after guiding Preston North End to the Division One play-off final, Moyes took over at Everton, replacing Walter Smith in March 2002
Handed Wayne Rooney his Premier League debut in August 2002 before selling him to Manchester United two years later for an initial £20m
Steered Everton to a fourth-place finish in 2005 and a place in the qualifying stages of the Champions League
Took Everton to the FA Cup final in 2009, where they lost 2-1 to Chelsea
Appointed Manchester United manager in May 2013
Leaves Old Trafford in April 2014 after United missed out on a Champions League for first time since 1995-96
Rather than ushering in an exciting new era, however, the summer of 2013 was when everything started to go wrong.
Feeling under-appreciated and under-paid, Montanier departed to take up an offer to return to his native France with Rennes, leaving La Real to appoint his assistant, the inexperienced former primary school teacher Jagoba Arrasate, in an attempt to maintain continuity.
The task was beyond Arrasate, whose newly-inherited team endured a miserable start to last season, suffering group stage elimination from the Champions League without winning a single game and slipping into the bottom half of La Liga before rallying to finish seventh.
Signs of the team's true potential were evident at the start of this season with a thrilling and fully deserved 4-2 home victory over Real Madrid, allowing supporters to briefly believe that perhaps Arrasate was the right man to take the team forward after all.
But that proved to be their only victory in the opening 10 games of the campaign, which also included an embarrassing Europa League qualifying round exit against Krasnodar, and it was no surprise when Arrasate was sacked following last weekend's 1-0 home defeat to Malaga.
Man Utd under Moyes
Defeated in Champions League quarter-final by Bayern Munich
Beaten in League Cup semi-final by Sunderland
Lost at home to Swansea in the third round of the FA Cup
Five points from a possible 24 against Liverpool, Chelsea, Manchester City and Arsenal
Defeat against Everton confirmed club would miss out on Champions League for first time since 1995-96
Top talent for Moyes to work with
The good news for Moyes - and surely one of the main reasons he has taken the job - is that his new squad contains plenty of talent, with their current position of 15th with nine points from 11 games an inaccurate reflection of the team's true capabilities.
Although the departure of star forward Griezmann has undeniably left a hole up front, Moyes can still call upon Carlos Vela who, despite struggling with Arsenal as a youngster, has been one of Spanish football's most consistent scorers in recent years.
Moyes's new midfield is stacked with potential, including two young players who have long been regarded as potential future Spanish internationals: former Real Madrid man Sergio Canales and youth team product Ruben Pardo.
In defence, left-footed centre-back Inigo Martinez has been regarded as a transfer target for both Barcelona and Real Madrid, while right-back Carlos Martinez was close to a Spain call-up not too long ago.
But perhaps the most important player of all is veteran club captain Xabi Prieto, who is greatly respected both within the dressing room and around the league - Moyes would be well advised to ensure he develops a good rapport with Prieto, who can become his most influential ally.
Off the pitch, Moyes will love life in San Sebastian, a beautifully picturesque city set around a gently curving bay which reputedly boasts the world's highest concentration of Michelin-starred restaurants - quite a contrast from his previous hometown of Preston.
And he is joining a club which, despite generally founding its efforts upon its Basque roots, is very much open to British influence, evident from previous managerial appointments of Chris Coleman, John Toshack and, as far back as the 1930s, former Tottenham defender Harry Lowe.
No money, low morale and language issues
A major obstacle will be the language barrier. Few of his players speak English and, unless he has been taking lessons in private, Moyes is far from fluent in Spanish - Manchester United and Everton's Spanish players, at least, never heard him converse in the language.
With a struggling team lacking in confidence, difficulties in establishing clear lines of communication could prove fatal, and Moyes will surely use a go-between to deliver his messages to the players.
Indeed, he could even follow the example of the legendary Sir Bobby Robson, who at Sporting Lisbon decided to employ a translator... an ambitious young man named Jose Mourinho.
However he does it, communicating his ideas will be crucial for Moyes, because La Real are not in the relegation zone by accident.
Real Sociedad managers since 2000

Javier Clemente (October 1999- October 2000) - Spanish

Perico Alonso (October 2000 - December 2000) - Spanish

John Toshack (December 2000 - March 2002) - Welsh

Roberto Olabe (March 2002 - June 2002) - Spanish

Raynald Denoueix (June 2002- June 2004) - French

Jose Maria Amorrortu (June 2004 - January 2006) - Spanish

Gonzalo Arconada (January 2006 - March 2006) - Spanish

Jose Mari Bakero (March 2006 - October 2006) - Spanish

Miguel Angel Lotina (October 2006 - June 2007) - Spanish

Chris Coleman (June 2007 - January 2008) - Welsh

Jose Ramon Eizmendi (January 2008 - April 2008) - Spanish

Juanma Lillo (April 2008 - June 2009) - Spanish

Martin Lasarte (June 2009 - June 2011) - Uruguayan

Philippe Montanier (June 2011 - June 2013) - Spanish

Jagoba Arrasate (June 2013 - November 2014) - Spanish

David Moyes (November 2014 ) - Scottish
Although he had good players, Arrasate failed because he was unable to provide his talented squad with a clearly defined playing structure, with their efforts often descending into an incoherent mess.
The tactical chaos is evident from the fact that 21 players started in the team's opening 10 league games of the season, and Moyes urgently needs to instil tactical discipline and develop a sense of identity, allowing the team to feel confident and assertive in their approach rather than their recent state of confusion.
And it's just as well that Moyes has talented players at his disposal, because he will not have much opportunity to bring in new ones.
President Jokin Aperribay has firmly informed Moyes that he will not be given significant funds in the January transfer market, and if he wants new blood he will instead be expected to rely on loan deals, free transfers and - first and foremost - emerging talent from the club's youth team.
Moyes will also need to adapt to the unusual atmosphere of the Anoeta, his new team's home ground, which can be a cold, sterile environment because of frequent winter downpours and an unpopular running track separating the fans from the pitch - a far cry from the intense and vocal grounds of England.
Still, plenty of room for improvement
Moyes has the benefit of arriving at a time when Real Sociedad could barely be doing worse.
Considering the quality of the squad, they certainly should be capable of pulling away from the bottom before too long, and it appears the only way is up.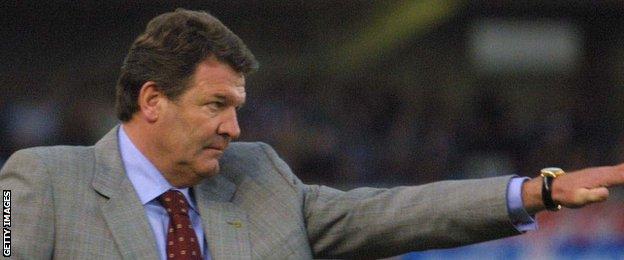 Assuming he can succeed in taking his new team into the security of mid-table comfort, Moyes will be granted plenty of time.
Fans are not expecting a long cup run or a sudden surge into the top four, and they will not rush into hasty judgments of their new manager's abilities - predecessor Arrasate, for example, was granted 18 months - the same length as Moyes's contract - despite never looking up to the job.
The lack of finances could even prove to be a blessing, because nearly every club in Spain is in the same position and La Liga is therefore more of a level playing-field than the Premier League.
If he can overcome the language barrier to provide his talented but currently flailing squad with much-needed tactical direction, Real Sociedad could well prove to be the ideal opportunity for Moyes to relaunch his career.