Swansea City: Investment would need fans approval - Huw Jenkins
Last updated on .From the section Swansea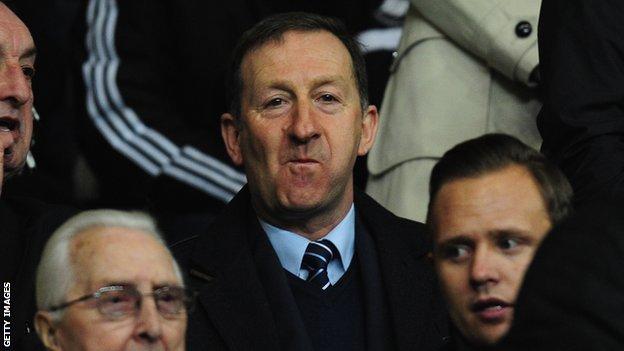 Swansea City chairman Huw Jenkins has said any investment in the club would need the approval of supporters.
Swansea's supporters' trust, which owns 20% of the club, has previously voiced its concerns about foreign ownership.
"There are a number of clear questions that need to be asked," Jenkins wrote.
"Will the current board of directors continue as they are forever?
"Can Swansea City operate in the same way for the next 10 years or so as it has in the past?
"Will standing still and protecting what we already have be enough for us to compete in the future?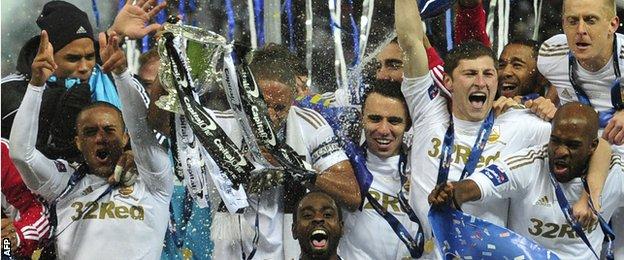 "This needs to be considered in more detail before any of our supporters can decide if the thought of a new person or people sitting on our current board of directors to offer help and opinions on the future running of our football club is a good move or not.
"Although I cannot promise or predict the future, I can guarantee one thing - the current board of directors will always fight, as we have done over the last 12 years, to work together as one with the Supporters Trust to make 100% sure that Swansea City football club remains the number one priority in all our thoughts and in every decision we make."
BBC Wales football correspondent Rob Phillips
"My reading of that is he [Jenkins] is starting to try and convince Swans fans because as he says they cannot continue as they are forever.
"Swansea City are now a stabilised Premier League club and that has whetted the appetite of the fans for more.
"How do they get more and how do they move on? It means more investment."
There has been no overseas investment in Swansea since the club was bought from Australian Tony Petty in 2002 when the Swans were struggling near the bottom of the Football League.
Since then, Jenkins and the board, which includes a fans' representative, have steered the club to its current position of sixth in the Premier League table.
But Jenkins said in September that Swansea were "miles behind" most of their rivals in terms of commercial income.
The Swans are understood to be talking to American millionaire John Moores, an entrepreneur who previously owned the San Diego Padres Major League Baseball franchise.