Arsene Wenger: Chelsea appear unstoppable says Arsenal boss
Last updated on .From the section Football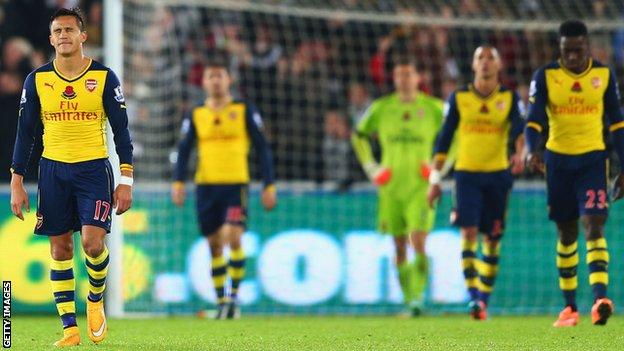 Arsenal boss Arsene Wenger believes no team is currently capable of catching Premier League leaders Chelsea.
The Gunners lost 2-1 at Swansea on Sunday to slip 12 points behind Jose Mourinho's unbeaten side.
Chelsea have won nine of their 11 games this term and have 29 points - four more than second-place Southampton.
"If they keep that up nobody will touch them," Wenger said. "It doesn't look like anybody is capable of challenging them at the moment."
The Blues fought back from a goal down to beat Liverpool 2-1 at Anfield on Saturday and Wenger believes they are team full of confidence.
"Look at the season and Chelsea are on course for 105 points. Look at the number of points they have today and if they keep that up nobody will touch them, that's for sure.
"They have had a good start and as long as you don't lose you don't question yourself," the Frenchman said. "Maybe a little bit more extra spirit in the team helps them when it gets tight."
MOTD2 analysis
Martin Keown on Arsenal:
"Arsenal's downfall was that they were not ready when they lost the ball. You have to prepare for the worst, otherwise you are not going to be ready when you lose possession. That is something you don't have to train at, it is a mindset you go on to the pitch with, and you have to have players who take responsibility at key times."
Read more: 'Arsenal pay for criminal defending'
Wenger added that he was disappointed to see his own side ease up after taking the lead at the Liberty Stadium and throw away victory.
The Gunners went ahead through Alexis Sanchez before Gylfi Sigurdsson and substitute Bafetimbi Gomis turned the game around for the Swans.
The defeat caps a poor week for Wenger after a Champions League collapse to draw 3-3 with Anderlecht on Tuesday.
"It's disappointing to throw a game away like we did," said Wenger.
"We were 1-0 up and had to be tight defensively and wait for that second chance. But you have to credit Swansea who didn't give up.
"We eased off at 1-0 and let them back into the game."
Arsenal, who drop to sixth in the table, have lost more points from a winning position than any other Premier League team this season.