Fifa Women's World Cup 2015: Hosts Canada refuse pitches talks
Last updated on .From the section Women's Football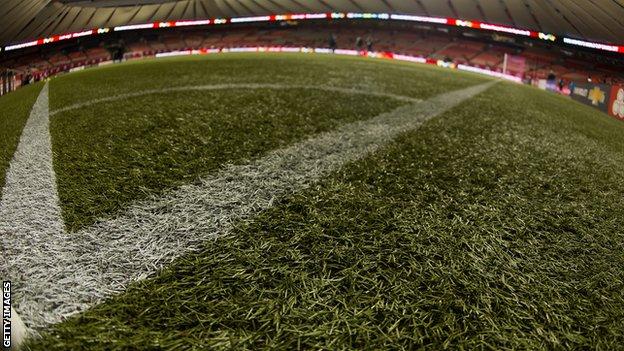 Hosts Canada have refused to enter talks over reviewing the controversial use of artificial pitches at next year's Women's World Cup.
But the Canada Soccer Association (CSA), which is being sued for alleged sex discrimination along with football's governing body Fifa, says it is not prepared to enter into negotiations.
Meanwhile, 13 United States senators backed the players' campaign to have grass pitches, giving their support in a letter to Fifa.
Germany's Nadine Angerer and Abby Wambach of the United States, the previous two winners of the Fifa Women's Player of the Year award, are among those arguing that the tournament should be played on grass in line with all previous World Cup competitions.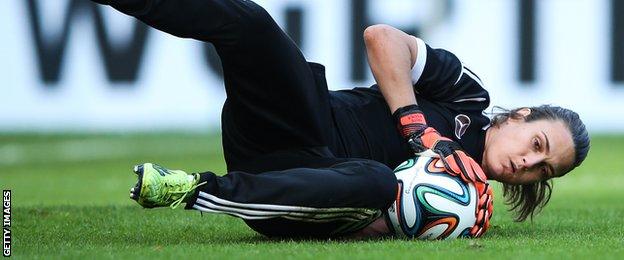 They say synthetic pitches increase the chance of injuries and change the nature of how matches are played, but Fifa insists the risks are the same on artificial turf as natural grass.
The players' case was brought before the Ontario Human Rights Tribunal, which has ruled out dealing with the matter swiftly but is prepared to offer the parties early mediation.
Attorney Hampton Dellinger, representing the players, claimed the CSA - by refusing mediation - had gone against a previous indication it would enter into talks.
"We will ask the tribunal to reconsider its decision not to hear the application on a fast-track basis," said Dellinger.
Welcoming the tribunal's decision, CSA president Victor Montaglian said: "We continue to move forward with our preparations for what will be a world-class competition played on consistent, top quality Fifa two-star certified football turf surfaces."