Hamilton boss Alex Neil hopes fans lay off James McCarthy
Last updated on .From the section Hamilton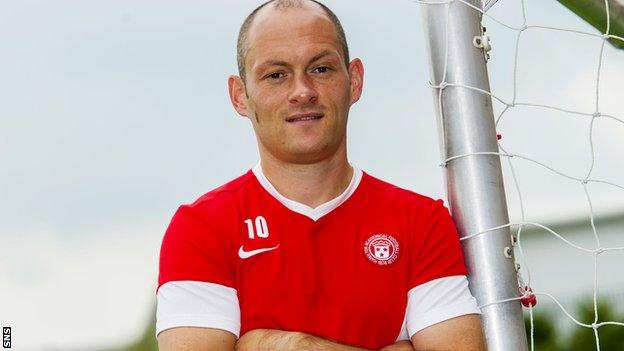 Hamilton player-manager Alex Neil hopes Republic of Ireland midfielder James McCarthy is not subjected to abuse from the Scotland fans on Friday night.
McCarthy, a former team-mate of Neil's at Accies, opted to play for Ireland despite growing up in Scotland.
And that has led to suggestions he will be targeted by fans when Ireland visit Celtic Park in Euro 2016 qualifying.
"I'd like to think he won't get any reaction, and just let the kid go and play his football," said Neil.
The Hamilton boss played beside McCarthy when the 23-year-old came through the ranks at Accies.
He has cemented his reputation in England's top-flight with Wigan and then Everton, and Neil believes it would be wrong to target him for taking the opportunity to play for the Republic of Ireland.
"At the end of the day he didn't get chosen for Scotland, and Ireland picked him, so it's not his fault," Neil added.

"When you've only got one option, it's pretty easy to take that option - it's not as if Scotland came calling.
"The boy's a terrific footballer and I don't think that stuff should have any part to play. He'll get heckled as much as anybody else but that's par for the course. I don't think he should get any special treatment from the fans or anybody else."
Another former Hamilton youngster in James McArthur is in the Scotland squad for the crucial qualifier, and Neil says the progress of the two players is a huge source of pride for the Lanarkshire club.
"It will be really interesting to see how they get on against each other," Neil said.
"Knowing the two of them, they are fierce competitors and will be trying to do well for their own country.
"To see two young lads who came through the system here playing at the top level in international football, everybody will be extremely proud. We'll be supporting Scotland, although I'll be hoping James McCarthy has a terrific game."