Northampton's John-Joe O'Toole could leave on loan - Chris Wilder
Last updated on .From the section Football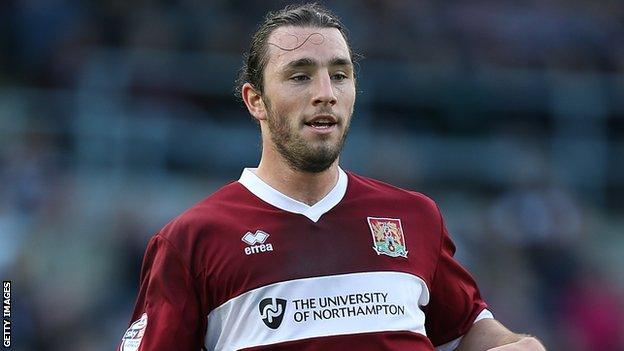 Northampton Town manager Chris Wilder says John-Joe O'Toole "has not got his season going" and could go out on loan.
Wilder told BBC Radio Northampton: "I don't think he's produced anywhere near what we expect him to do.
"A loan might be an option if someone comes in and guarantees games away."
Wilder continued: "We can't use our first team for him to get fit in.
"I've been honest with him - he's not got himself up to speed and he's not got his season going.
"He should be doing a lot more when he plays. Whether we've not got him at a place where, physically, he can do that - we need to look at ourselves [as staff] on that.
"But I think I see what the supporters have seen. He's not done enough. To play the way we expect him to play, he has to get about the park better."
Analysis: Jon Wilkinson, BBC Radio Northampton
"O'Toole has actually produced his best performances - though not for 90 minutes - in more defensive midfield roles at Northampton, but that's not the player fans were expecting to see after his fine goalscoring performances for Bristol Rovers last season. There is a very good player in him, but Northampton have a big squad and he needs a really eye-catching display soon if he's to keep getting chances. There's been glimpses of what he can do getting forward, but not often enough."
Former Republic of Ireland Under-21 international O'Toole was named in the PFA's League Two Team of the Year after ending the 2013-14 season as Rovers' top scorer.
"We've clipped DVDs of him last year to this year and we feel he's off the pace," said Wilder.
"At the moment, we don't think he's a standout player for us. When you sign players, you expect to them to be big players - Marc Richards, Zander Diamond, Ryan Cresswell - and they have been.
"John-Joe is in that bracket and we have to find a solution. Just doing OK isn't good enough for us and not, most importantly, for him."
Wilder added: "We need to work him a little bit harder. He'll play on Tuesday [against Leyton Orient in the Football League Trophy]. He's got to do better on the training ground, and if he doesn't, he doesn't play. If he does, we've got a player on our hands.
"If we can get him up to speed, he'll be the player everyone expected in the summer and who scored 15 goals last year from midfield.
"We've played him in positions we feel suit him but he has to play for 90 minutes. It's a difficult one. If someone does come in, we'll possibly look at that."