Worcester City: Coventry victory rewards loyalty of boss Carl Heeley
By Dan Johnson
BBC Hereford & Worcester
Last updated on .From the section Football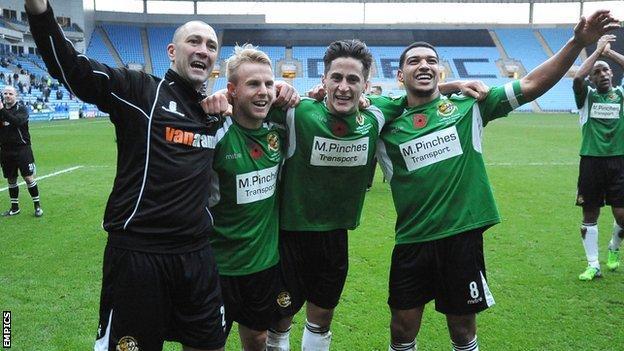 To understand the enormity of Sunday's astonishing FA Cup win at Coventry by Conference North club Worcester City, you have to go back in time.
Not quite as far back as their celebrated third-round win over Liverpool, then in the old Second Division, in January 1959, or even the televised second-round tie against Huddersfield in December 2005, but to the summer of 2013.
With St George's Lane, their base for over 100 years, sold to clear debts and a groundshare with fierce local rivals Kidderminster Harriers looming, the future of manager Carl Heeley's beloved, but beleaguered club was far from certain.
It would have been easy for Heeley to walk away at that point, his status as a City legend already assured with over 500 appearances and several years of stable management to his credit.
Heeley's wonderful week
"What a fabulous day for the club. And it finishes off a wonderful week for me after the birth of my daughter. I'm struggling for words, but I'm just delighted for all of the players, all the staff and all of our supporters, who were incredible. I don't want to be disrespectful to Coventry City but we genuinely thought we could here and get a result. That's the message that we've been drilling into the players since the draw was made. And those boys have now gone home as proud men. We've got some good footballers and some incredibly fit boys, so I never thought the full-time/part-time issue would be a factor."
Worcester City manager Carl Heeley, whose wife Vicky gave birth to their third daughter, Mia, on Tuesday
Many of his key players chose to depart, including top-scorer Mike Symons, striker Michael Taylor and defender Jacob Rowe.
Nobody blamed them because the club's future appeared so bleak.
But 'King Carl', as he has been known to City fans for years, instead seized the day, led the Worcester faithful 14 miles up the A449 to Kidderminster's Aggborough stadium and set about restoring the fortunes of his homeless, and almost hopeless, club.
Ably supported by his assistant Matt Gardiner, Heeley rebuilt his ravaged squad on one of the division's lowest budgets by bringing in talented, but relatively untried youngsters such as Daniel Nti and George Williams, both 21.
When club captain Tom Thorley jumped ship to Conference North rivals Hednesford in November 2013, Heeley's response was to move left-back Ellis Deeney into Thorley's vacant central midfield position and what a masterstroke it proved to be.
The 23-year-old former Aston Villa academy captain was a revelation and soon given the City armband. Occasionally cheered on by his better-known brother, Watford striker Troy Deeney, he helped Heeley to steer his side to a creditable 15th-placed finish.
Nti and Williams also excelled, the former ending last term as top scorer, while Williams was named player of the season.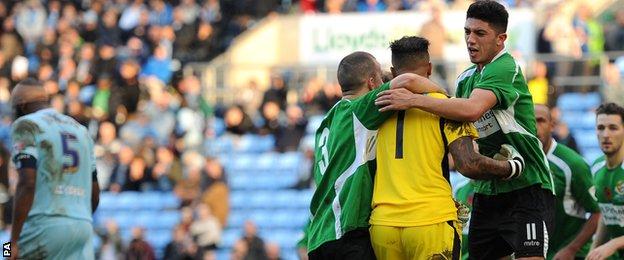 With the situation stabilised, Symons and Rowe returned to the club on the summer. A few weeks later, they were followed by Taylor, and after a subdued start to the new campaign, September's arrival of Sean Geddes from Stourbridge Town seemed to spark City into life.
Being drawn against Coventry was apt as the Sky Blues have an understanding of life as footballing nomads, having spent more than a year playing home games at Northampton while a rent dispute was settled, before returning to the Ricoh Arena earlier this season.
But Worcester went into the first-round tie on an eight-game unbeaten run, and despite facing Coventry away from home, a side 64 places above them in the football pyramid, Heeley convinced his players they could get a result.
Vaughan's magical moment
"It wasn't an amazing penalty by the guy, but I'll take it. I clashed heads with Wayne Thomas, so I don't actually remember much of the second half. But when I looked up at the clock and it said 89 minutes, I thought hang on we might just win this. When the referee said there were seven minutes, I thought 'What game are you watching?' But we got through it, and at the end it was as emotional as I've ever been. I was filling up at the end."
Worcester City's on-loan Kidderminster Harriers keeper Nathan Vaughan, who saved Coventry captain Reda Johnson's first-half penalty, just three minutes after going ahead.
Nti signalled City's intent with a shot on goal in the first minute and a fine cross from Williams was almost headed in by Geddes midway through the first half before he gave Worcester a well-deserved lead from the penalty spot a few minutes before the break.
The glorious second goal from Geddes 10 minutes into the second half will live long in the memory of every Worcester fan and, despite conceding late on, heroic defending by Wayne Thomas enabled them to run down the clock in stoppage time and secure another entry in FA Cup folklore.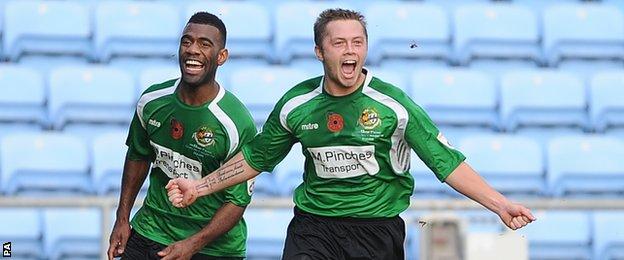 Make no mistake, Worcester were the better side from the first minute right through to the 97th, raising their game to such an extent the Sky Blues simply could not cope.
More than 3,000 travelling City fans roared their delight, but once the hubbub had subsided it was only fitting that the final word should go to Heeley, Worcester's real cup hero, who refused to walk away when the club was in the depths of despair.
"It's very difficult for a non-league club to get to the first round so when you get here you don't want to let the moment pass you by," he said.
"Today we have achieved one of the biggest results in this club's proud, proud history. That's an absolute honour."