Tottenham afraid to play at home - Emmanuel Adebayor
Last updated on .From the section Football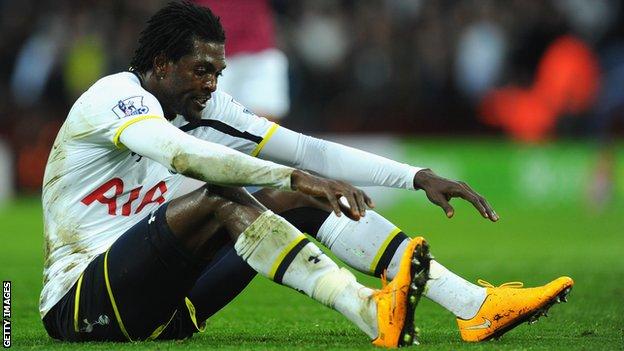 The negative atmosphere created by Tottenham's fans at their White Hart Lane home is damaging the players' confidence, says Emmanuel Adebayor.
Spurs were booed during and after Sunday's 2-1 home defeat by Stoke and have lost four of their six home games in the Premier League this season.
"It might be better to play away at the moment," said Spurs striker Adebayor.
"At least you know you are going to be having the majority of opposition fans booing, rather than our own fans."
Spurs, who were beaten by Newcastle in their previous home game, have picked up just six points from six league games at their north London stadium.
Adebayor added: "Will it help playing away from home? To be honest, I think so.
"And I am not just talking about me, I am speaking on behalf of all the players.
"When you are playing at home and your own fans start booing you after a few minutes then it is harder.
"It is like going through a sad moment and your family not welcoming you home - that's the worst thing ever because you have nowhere to go."
Adebayor has started nine of Tottenham's first 11 league games this season, scoring in the 4-0 home win over QPR on 24 August and the 2-1 home defeat by Newcastle on 26 October.
"I was on the bench against Stoke and I could see that nobody wanted the ball," continued Adebayor, who came on midway through the second half.
"It's hard for the players. It's not their fault and it's not the fans' fault either because the fans want to see a result, the fans want to see a response."
There was a nervous atmosphere from the start against Stoke at White Hart Lane on Sunday and the fans were quick to vent their frustrations after Bojan Krkic gave the visitors an early lead.
But Adebayor insisted manager Mauricio Pochettino, appointed in May, is not to blame for the club's poor form.
"This is the third or fourth manager in two or three years so we just have to stop it now being about the manager," said the ex-Arsenal, Manchester City and Real Madrid forward.
"He's a good manager and we just have to find a way so that we can try to understand what he wants to tell us and how he wants us to play and put that on the pitch."