Wembley pitch will not be of 'very highest standard' for England
Last updated on .From the section Football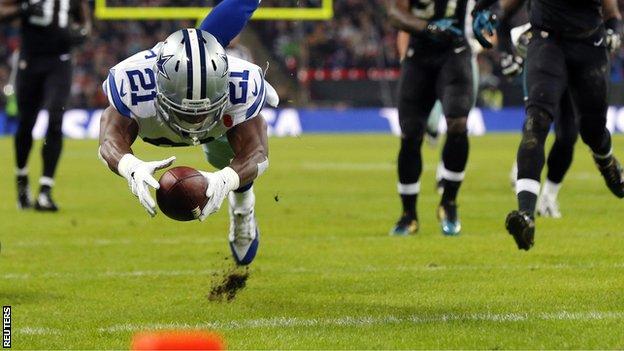 Wembley managing director Roger Maslin says the national stadium's pitch will "not be of the very highest standard" when England host Slovenia on Saturday.
The turf was cut up and scarred after Sunday's game between Dallas Cowboys and Jacksonville Jaguars.
And Maslin said the playing surface was "not as good as it should be".
Maslin said the issue with the pitch had left him "slightly disappointed" but is confident it "will be back to its pristine state after a winter renovation".
"While the pitch will not be of the very highest standard we want for the Slovenia game, it will still be a good playing surface," he said on the Football Association's website.
"We do expect it to be back to its best by March for the Lithuania game.
NFL games at Wembley
Wembley hosted one regular game a season from 2007 to 2012
In 2012 the Jacksonville Jaguars said they had agreed to play a home game in London from 2013 to 2016
As a result, the number of regular-season games was increased to two in 2013 and three in 2014
The 2015 games will feature New York Jets v Miami Dolphins (4 Oct), Buffalo Bills v Jacksonville Jaguars (25 Oct) and Detroit Lions v Kansas City Chiefs (1 Nov)
"Whether it's the England team, which is absolutely at the core of the stadium, or whether it's Rugby World Cup, NFL, Saracens or rugby league, I am very confident we can deliver a fantastic surface for all those event owners."
Speaking before Sunday's contest between the Cowboys and the Jaguars, the third NFL fixture at Wembley in six weeks, Hodgson said: "If I was asked if it was a good thing or not, I would have to say not.
"The pitch, unfortunately, is not in the best of nick anyway, which we're all a bit unhappy with."
Maslin said problems with the "summer renovation" of the pitch was to blame for issues, rather than the run of NFL fixtures.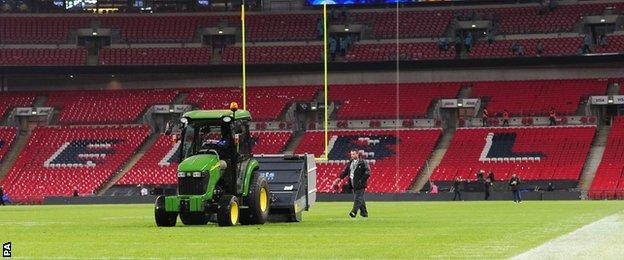 "Due to slightly too much topsoil during the summer renovation, there's more marking and scarring on the pitch than we'd want," he said.
"This isn't so much a problem of the NFL but of our summer renovation."
He added: "Roy is totally entitled to his opinion. We have a very good working relationship with the England team and we'll be working closely with them this week to ensure we deliver the best possible playing surface for the game on Saturday."
England have won their first three qualifiers and will go six points clear at the top of Group E with victory over Slovenia.