Women's Champions League: Glasgow City 4-2 Zurich (5-4)
Last updated on .From the section Women's Football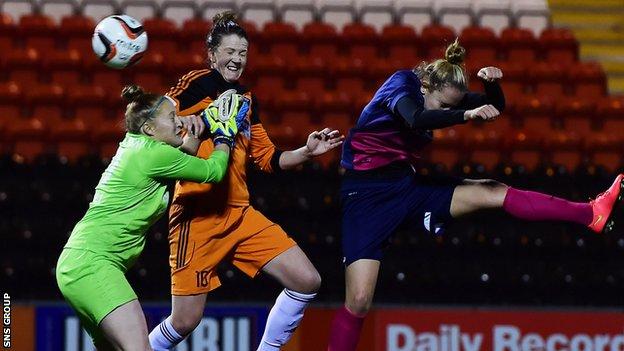 Glasgow City scored two late goals to reach the Champions League quarter-finals for the first time.
When Joanne Love hammered in a shot on 81 minutes, City led Zurich 3-2 on the night but were going out on away goals, having lost the first leg 2-1.
But Suzanne Lappin powered in a header to seal a dramatic comeback victory.
Cinzia Zehnder slotted the Swiss side ahead, with Abbi Grant and Leanne Ross replying before Fabienne Humm appeared to tip the match in Zurich's favour.
The players on the City bench raced on to the pitch to celebrate Lappin's goal, including goalkeeper Lee Alexander, who was withdrawn at half-time with a suspected broken collarbone but refused to go to hospital.
Just a short time earlier, the faces on the sidelines were glum as Humm levelled less than two minutes after Ross had slammed in a penalty.
But City were rewarded for their fantastic spirit and for dominating long spells of the match at Airdrie's Excelsior Stadium.
Using the width of the pitch well, the home team had the Swiss penned back for most of the first half but could not find a killer pass in the final third.
Zurich were a threat on the break, with Alexander's injury coming after a brave one-on-one save before Zehnder finished coolly when City failed to clear from a corner in first-half stoppage-time.

A fumble from the visiting keeper allowed Grant to chip home a clever equaliser 10 minutes into the second half and soon after the game was level on aggregate.
Denise O'Sullivan was tripped following an enterprising run and Ross converted the penalty in style.
However, another defensive lapse allowed Zurich to draw level on the night, with Humm finishing from close range.
The Swiss side looked comfortable, packing players in their own half, while City lost their way temporarily.
Love then breathed new life into the hosts when the Scotland midfielder cracked home a sweet shot from the edge of the penalty box.
And Lappin completed a remarkable turnaround when she rose to nod in an excellent delivery from Ross.
Glasgow City midfielder Suzanne Lappin: "We train four nights a week and this is what it's for.
"I played in the Champions League at 16 and we have come such a long way.
"It's without doubt the best moment of most of our lives, this team is absolutely amazing."
Glasgow City forward Fiona Brown: "It just shows how much fight we had to come back. We wanted this so much.
"We've made history and it's just the best night ever! You can see by the reactions that it just means everything.
"We always believed. In this team there is always a game-changer and it's from all over the park."