Wayne Rooney: 99 caps, 43 goals, is the striker an England great?

By Phil McNulty
Chief football writer
Last updated on .From the section Football1228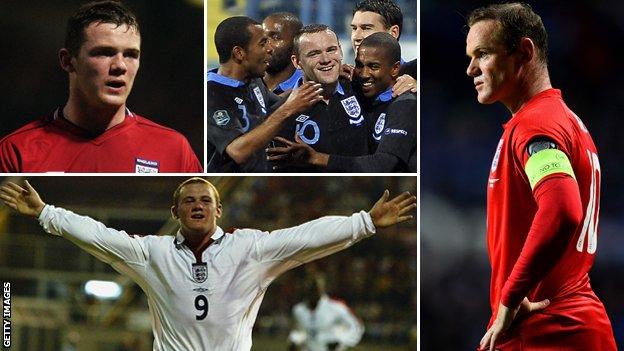 Euro 2016 qualifier:
England v Slovenia
Venue:
Wembley
Date:
Saturday, 15 November
Kick-off:
17:00 GMT
Coverage:
Commentary on BBC Radio 5 live; live text commentary via the BBC Sport website, app and mobile devices
When Wayne Rooney's entrance as a full England international was announced over the tannoy at Upton Park on 12 February 2003, it was welcomed in the manner befitting a superstar in the making.
Rooney was then England's youngest player at 17 years 111 days when he came on at half-time in the 3-1 friendly defeat by Australia.
He had already secured such a profile that Everton had been deflecting interview requests and inquiries about the Croxteth prodigy from around the world after his famous first Premier League goal against Arsenal in the previous October.
Future greatness for his country seemed assured even at such a tender age.
The clock has moved forward almost 12 years and Rooney, now 29 and the England captain, joins a select band of centurions when he leads England out alongside sons Kai and Klay to receive a golden cap from Sir Bobby Charlton before the Euro 2016 qualifier against Slovenia at Wembley on Saturday.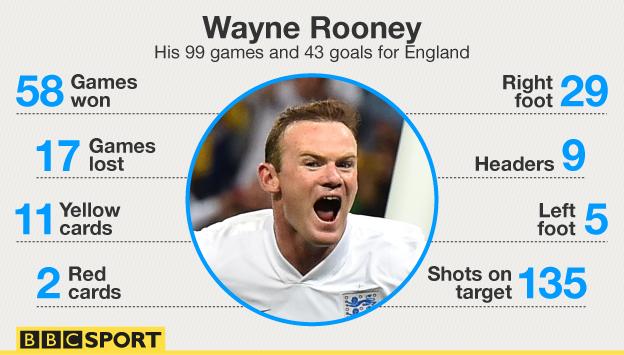 And as Rooney reaches this landmark, the ninth to do so, the time for reflection has underwritten the debate about whether Rooney can, or ever will, be regarded as an England great? Has he fulfilled his potential in the fashion that seemed such a formality on that chilly night in east London in 2003?
Charlton's presence will underline how Rooney is only six goals behind the Manchester United legend's all-time record of 49 and how goalkeeper Peter Shilton's record of 125 caps is well within his compass, barring accidents.
So with 99 caps and 43 goals to his name, it may seem surprising that there is even a conversation surrounding Rooney's stature as an England player.
Former England defender Danny Mills, who took the captain's armband when he also came on alongside debutant Rooney as a substitute against Australia, believes there are no questions.
Mills, who remembers "this new fresh-faced kid, incredibly confident, huge belief in his own ability and also as a person", told BBC Sport: "Wayne Rooney is an England great. No question. Whether he is the best striker is open for debate but what people don't understand and underestimate sometimes, is that to get to 100 caps and play at the top - and I mean the top - for 10 or 11 years for club and country, is unbelievably difficult.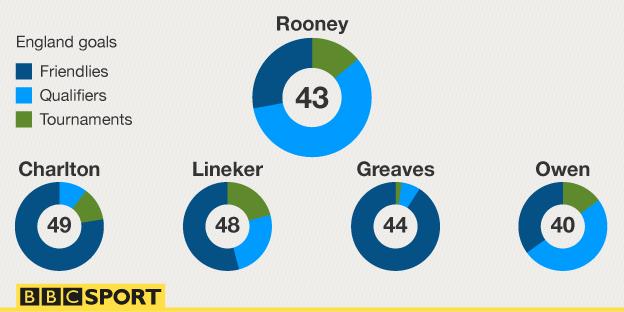 "A player may have a period of four years at their crest, the peak, and either side of that they may still be very good but not at their peak. Wayne has been in that sort of area for 10 years. It is so difficult to maintain those high standards. That is the mark of a great England player."
And yet, listening to BBC Radio 5 live's special programme on Tuesday marking Rooney's achievement, it is clear the striker remains a divisive figure.
Former England striker Alan Shearer says: "I think the word 'great' is used maybe too many times nowadays but you can't argue with Lionel Messi and Cristiano Ronaldo, who are great. I wouldn't put Wayne in that bracket - very good, yes. But if you are using those two as great players I don't think he's at that level."
There can be no doubt Rooney has not achieved the level so many of us who sat enthralled through the hot Portuguese summer of Euro 2004 thought he would reach.
Rooney was the tournament's teenage superstar, weeks before a British record £27m move from Everton to Manchester United, carrying England's torch to the quarter-finals with goals against Croatia and Switzerland.
In a tournament many still regard as England's greatest missed opportunity since Euro 96 at home, defeat came on penalties in the quarter-finals to the hosts, hindered by Rooney's early exit with a broken foot.
| Rooney's England highs.... | ....And lows |
| --- | --- |
| Feb 2003: Became the youngest player to play for England when he appeared in a friendly against Australia in 2003. He was 17 years and 111 days old, a record which Theo Walcott has since lowered by 36 days. | Apr 2006: Fractures a metatarsal bone in his right foot six weeks before opening fixture of the World Cup. Manages to play in tournament but was far from peak fitness. |
| Sep 2003: Became England's youngest goalscorer when he netted in a 2-1 European Championship qualification win over Macedonia. | June 2006: Rooney sent off for "stamping" on Portugal's Ricardo Carvalho in the World Cup quarter-final in Germany. England lose match on penalties. |
| Oct 2013: Became England's highest scorer in competitive games, breaking Michael Owen's record of 26 goals when he opened the scoring in a 4-1 World Cup qualification win over Montenegro. | Oct 2011: Sent off during a Euro 2012 qualifier against Montenegro for kicking out at Miodrag Dzudovic, leading Rooney to miss the first two games of the tournament. |
Since then, perhaps the most visible scar on his England career, Rooney has never fulfilled his potential at a major tournament - indeed he has fallen well below it.
Compared to those whose claims to England greatness are undisputed and underscored by deeds at major tournaments, such as 1966 World Cup winner Charlton and Gary Lineker - who won the Golden Boot in Mexico in 1986 and whose goals helped England to the semi-final in Italy four years later - Rooney has fallen short.
At the World Cup in Germany in 2006, he announced "The Big Man Is Back In Town" when he returned to England's base in Baden-Baden cleared to play after a broken metatarsal. Sadly, the big man left town in shame after being sent off in the 62nd minute of the quarter-final against Portugal in Gelsenkirchen, again lost on penalties, for stamping on Ricardo Carvalho.
Once again he looked short of fitness and out-of-sorts in South Africa four years later, even raging into a television camera against England's fans after a goalless draw against Algeria in Cape Town - a mind-numbing 90 minutes - and was banned for the first two games of the fruitless Euro 2012 campaign after being sent off in the qualifier in Montenegro.
Brazil was seen by many as Rooney's last shot at glory on the major England stage and, while he gave hope with his first goal at the tournament in the loss to Uruguay and was by no means the side's worst player, it was another failure.
So should this count against him when his full England story is told?
Mills says: "It has never quite happened for him at major tournaments but that's not just his fault. Of course he's had some disciplinary issues, one or two injuries, but also it's a team game and no matter how good you are as a centre forward, you need a great team around you to do well at tournaments.
"Lionel Messi hasn't quite done it in a tournament yet. Zlatan Ibrahimovic hasn't had the team around him to be great at tournaments. There are great players who haven't necessarily always done it at international tournaments. That doesn't mean to say Wayne Rooney is not a great player."
Sadly, as we waited for a repeat of the youthful zest, power, pace and fearlessness of Euro 2004, it never came at any subsequent tournament.
And while it may be more difficult given the increasingly partisan and tribal nature of the game, Rooney has also never been able to unite opinion behind him among England's football supporters in the way the universally-respected Charlton and Lineker were able to do.
Shearer adds that while credit is widely received from those within the game, the same is rarely afforded from those outside, particularly from fans and the media.
Rooney's occasional indiscipline with England, such as those red cards and the deliberate first-half removal against Spain to spare him another in November 2004, will also be used as a weapon to downgrade his status.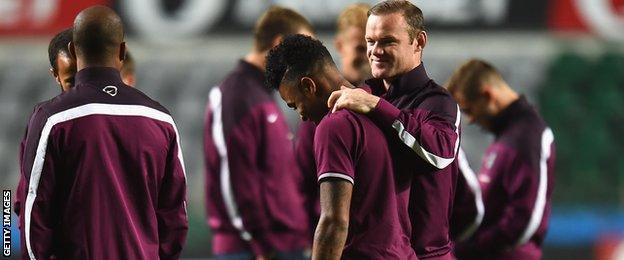 And then comes that goal record - highly respectable but once again framed by that lack of impact at major tournaments.
Charlton's 49 came over a 12-year, 106-cap career with a goal every 193 minutes. Lineker's 48 were collected over seven years in 80 appearances with a goal every 136 minutes. Jimmy Greaves scored 44 in 57 games in eight years at an average of one every 117 minutes.
Rooney's 43 have come in a career spanning almost 12 years at one every 172 minutes.
What cannot be in doubt, however, is that Rooney deserves his place among those who have excelled for their country, even in times of disappointment for England.
He has been more or less first pick by England managers from Sven-Goran Eriksson, Steve McClaren, Fabio Capello and now to Roy Hodgson.
McClaren regrets how he only had Rooney available for seven games during his time with England: "He was a player who made a difference and he wasn't in an England shirt often enough when I was there."
Rooney's pride, passion and patriotism for England goes back to when he penned a poem about representing his country after elimination from the 2002 Euro under-17 tournament.
He has never dodged international duty and, in good times and bad, has played in a manner that has always given England fans hope - even when he could not deliver on the promise. This was not always down to him. He could often cite a lack of support.
And, significantly, England would have been a lesser side over these last 11 years had they not had Wayne Rooney. For all the debates surrounding his place (which have increased recently) England would never have been a better side without him.
As he accepts his golden cap from his illustrious predecessor for club and country Charlton on Saturday, Rooney has every right to reflect with pride on his achievement.
In some ways, his international career has taken an unusual route from being built up too much to now arguably being under-appreciated.
Lineker says: "He has to rank right up there in the pantheon of English football's finest. There is no doubt he's a great player."
History may not ultimately judge him as a great England player but he has been a very good one. He can rightly claim to be one of the finest of his generation.