Africa Cup of Nations: Caf to reveal hosts in two to three days
Last updated on .From the section Football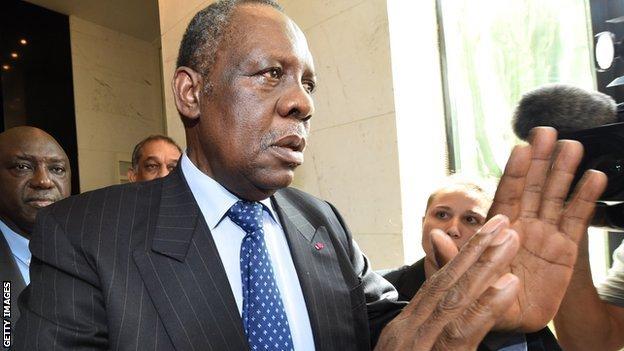 The new hosts for the 2015 Africa Cup of Nations will be named in "two or three days", says the Confederation of African Football (Caf).
Caf president Issa Hayatou revealed the timeframe in a live interview with TV channel France 24 on Tuesday.
Hayatou added that the tournament dates remained 17 January to 8 February.
It was announced earlier on Tuesday that original choice Morocco would not host because of its fears over the Ebola outbreak on the continent.
There has since been speculation that Angola could step in as replacements as they hosted the event in 2010 and have the stadia in place.
But Angola Football Federation executive committee member Joao Lusevikueno told BBC Sport: "Angola is definitely not hosting the Africa Cup of Nations in 2015.
"Even though the infrastructure is there - the stadiums, the hotels - you need at least two or three years to prepare the country to host a major tournament like that.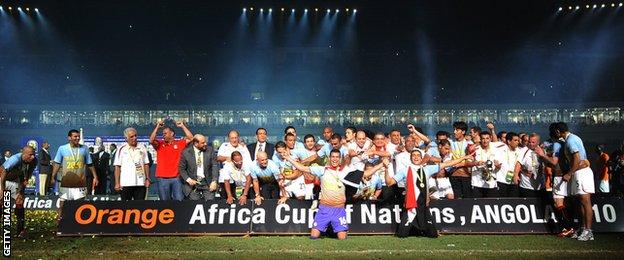 "It is not only the Angola Football Association (who decides) it is a matter for the government itself. The state budget has just been discussed and is going to be approved very soon - and it does not include hosting any tournament."
Morocco had asked to postpone the competition until 2016 but Caf refused and expelled them from the finals.
When asked if he understood Morocco's stance, Hayatou said: "No, I do not understand.
"We have been in contact with the Moroccan Football Federation, I led a delegation to Morocco and we had much dialogue with them that the Africa Cup of Nations, which is our main event, cannot be postponed.
"Once you postpone this event, it will open the door for everybody to ask for a delay of any competition and we will no longer be credible.
"They said the reason was Ebola. But when we see also that Morocco is in the process of organizing the Fifa Club World Cup, only 25 days before the Africa Cup of Nations, you understand that this is an argument that must be quickly erased.
"I fully understand the position of Caf and it was absolutely necessary to end this stand-off with the Moroccan Football Federation."
Who will step in as host? - Nick Cavell, BBC Sport
"Gabon, who co-hosted in 2012 with Equatorial Guinea, has been mentioned, but they only have two stadiums available. Tunisia hosted in 2004 and has the venues, but recent political turmoil and violence at football matches might count them out. Algeria is one of seven nations who have said they want to host the 2017 tournament and are the only ones who might be in a position to host earlier. Nigeria has the stadia after hosting the Under-17 World Cup in 2009 and a brand new facility in Akwa-Ibom state. But presidential elections are set for a week after the tournament."
Morocco has said it is willing to continue with its hosting duties for Club World Cup because it did not expect many supporters to travel from Ebola-affected regions.
Up to 4 November, at least 4,960 people had been reported as having died from Ebola, mainly in the West African countries of Sierra Leone, Liberia and Guinea.
Caf has said it will seek legal redress from Morocco based on its contractual agreement with the football federation which was signed in April.
Moroccan football is also likely to be heavily sanctioned, including a likely ban from future Nations Cup competitions.
However, Moroccan sports minister Mohamed Ouzzine told MPs on Tuesday in a parliamentary debate: "The Caf statement said we refuse to organise the Nations Cup, and it's wrong. We want the tournament in our country, but we maintain our demand to postpone it.
"Morocco has not breached any contract because of the force majeure. We will not rush to answer, but everyone should know that we are prepared for all eventualities.
"The WHO (World Health Organisation) says that every country has the right to take the necessary measures to protect its citizens... The whole world is incapable to find some treatment or some solution for that disease (Ebola), so isn't it a force majeure?
"We can talk about sanctions now, but we should not forget what would happen in case we have not taken our decision."