FC Zurich start legal action for tackle on Gilles Yapi-Yapo
By Saj Chowdhury
BBC Sport
Last updated on .From the section European Football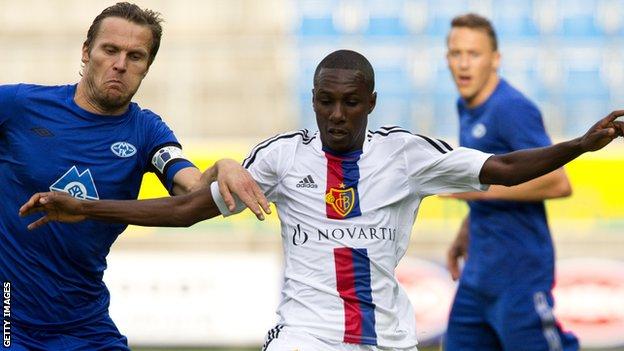 FC Zurich are to launch a criminal case for assault against FC Aarau player Sandro Wieser for his tackle on Gilles Yapi-Yapo last weekend.
The midfielder's knee was badly damaged and the Swiss club said they were uncertain he would ever play again.
"Our club lawyer is preparing everything for the prosecution which will be submitted to the court," an FC Zurich spokesman told BBC Sport.
FC Aarau have been contacted by the BBC but have yet to respond.
However, Liechtenstein international Wieser, 21, has reacted to the incident on the club website, expressing his regret.
"I want to apologise to Gilles Yapi and FC Zurich for the foul," said the midfielder, who was sent off for the tackle.
"It was never my intention to hurt Gilles. It is difficult to explain in retrospect what happened on the field in a fraction of a second."
The incident occurred during the first half of Sunday's Swiss Super League match at FC Aarau's Stadion Brugglifeld.
Both players chased the loose ball, but Wieser arrived late and caught Yapi-Yapo on the side of his knee. The former Ivory Coast international was taken off on a stretcher.