2015 Nations Cup: Gabon's Aubameyang to miss qualifier
Last updated on .From the section Football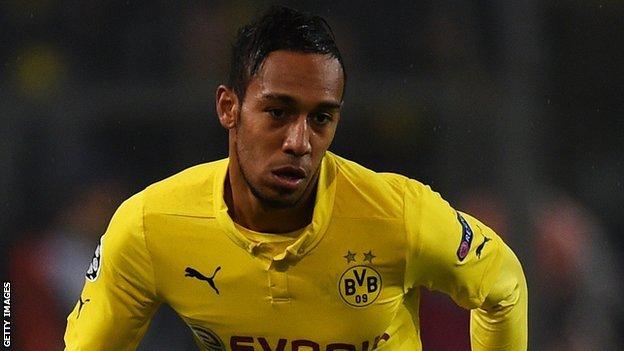 Pierre-Emerick Aubameyang will miss Gabon's Africa Cup of Nations qualifier against Angola on Saturday because he has not been released by his club.
The striker told German publication Bild that his country notified his Bundesliga side, Borussia Dortmund, too late for him to be called up.
He said: "My federation made a mistake. I may join the group for the second game (against Lesotho on 19 November)."
However, there is speculation fears over Ebola have prevented his release.
Also quoted in Bild, Dortmund's sporting director Michael Zorc said: "Without becoming paranoid, warnings have been issued by the medical staff. We have a duty of care to the players and the team."
Up to 9 November, at least 5,160 people had been reported as having died from Ebola, mainly in the West African countries of Sierra Leone, Liberia and Guinea.
The Confederation of African is currently seeking a new host for next year's tournament after original choice Morocco said it wanted a postponement to the 18 January to 8 February event.
In an interview with BBC World Service last month, Aubameyang revealed he was fearful of the Ebola outbreak and had concerns about playing at the Nations Cup.
He said: "I have this apprehensiveness, I'm naturally a bit scared. It doesn't need much. All it needs is for someone to touch you who has the virus and there you go, the difference is that it's not like a flu, if you catch this the chances of you getting better are slim.
"So there is this apprehension, from the club as well, naturally there's concern about their players and above all if I come back with this disease I could contaminate the other players.
"It's something very complicated but also you have to represent your national team. If the Nations Cup is held and Gabon qualifies I will have to go and after that I'll do all I can to be careful when it comes to everything linked to this disease."