Gordon Strachan v Martin O'Neill: More than Celtic connections

By Alasdair Lamont
BBC Scotland
Last updated on .From the section Football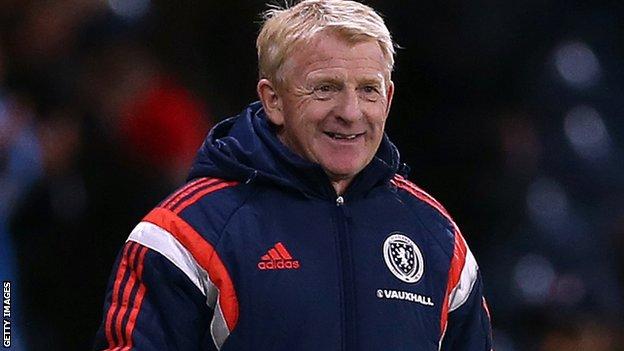 Scotland v Republic of Ireland
Venue
: Celtic Park
Date:
14 November
Kick-off:
19:45 GMT
Coverage:
Live on BBC Radio Scotland & online. Live text on BBC Sport website.
Football followers with a romantic notion could be forgiven for finding themselves overwhelmed by Scotland's meeting with the Republic of Ireland on Friday.
Martin O'Neill, if anyone needs reminding, returns to Celtic Park, a stadium where he was, and still is, worshipped for the success he brought to the club.
He will come up against his successor as Celtic manager, Gordon Strachan, who, though not held in quite the same regard by the supporters as O'Neill, nevertheless achieved a great deal in his time in charge.
If that were not enough, throw in the return of the Keanes - Robbie and Roy - who both had fleeting spells at Celtic Park and lifelong supporters of the club like Shay Given and you have enough material for a Mills & Boon tear-jerker.
But it is the match-up between the two managers that offers the greatest sense of intrigue.
The parallels between the two men do not end with their history as managers of Celtic.
Indeed, much more pertinent is their respective transformations of the national teams they lead in their current roles.
O'Neill was brought in a year ago following a World Cup qualifying campaign that ended with Giovanni Trapattoni's side fourth behind Germany, Sweden and Austria and a growing sensation that the Italian, who had taken the country to Euro 2012, had outstayed his welcome.

From his appointment right up until the friendly against Oman - four days before their first Euro 2016 qualifier - O'Neill has been assessing his options, looking at players, trying to find out who can be counted upon to serve him well in this campaign.
Given their start - a victory gained at the death in Georgia, a hammering of Gibraltar and, most impressive of all, a draw clinched in the final moments at world champions Germany - it looks as though O'Neill has transformed a team that had slumped to a record low of 70th in the Fifa rankings into one that can mix it with the best in Europe.
It is an upturn in fortunes not dissimilar to the one engendered by Strachan with Scotland.
He has had slightly longer to work with his players, but that also meant having to negotiate the end of an otherwise meaningless World Cup qualifying campaign.
The test was always going to come in the far more meaningful arena of European Championship qualifying.
Scotland's remaining Euro 2016 qualifiers

14 November 2014

R of Ireland (h)

29 March 2015

Gibraltar (h)

13 June 2015

R of Ireland (a)

4 September 2015

Georgia (a)

7 September 2015

Germany (h)

8 October 2015

Poland (h)

11 October 2015

Gibraltar (a)
An away defeat by Germany - a narrow one - looked respectable (though the Irish point in Gelsenkirchen coupled with Poland's home win over the world champions makes it less easy to accept) and four points from the home game against Georgia and the trip to Warsaw has Scotland almost exactly where most reasonable observers could have expected.
And so to the confrontation between Strachan and O'Neill (or Scotland and the Republic of Ireland, because "we're not playing each other", as Strachan kindly reminded me when I asked him about the prospect of coming up against his one-time predecessor).
Tripping up careless reporters is another attribute the pair share.
Scotland trail their opponents by three points and, although results so far indicate that the permutations for future games could be just as unpredictable, it is difficult to see how anything less than a home win can keep hopes of automatic qualification alive for Friday's hosts.
O'Neill has already conceded this week that a point - as the away team - is more favourable to them.

Confidence is high in both squads thanks to their recent resurgence in form and predicting the outcome is tricky.
Probably the only result that would give cause for surprise would be an overwhelming victory for one side or the other: neither a narrow win for either team nor a draw seem an outlandish prospect.
And it is in that context that the managers will earn their corn.
Assuredly, both will tell you it is not about them, nor about tactics, it is about players, good players, and who performs better on the night.
But that would be to underplay, as both men like to do, their own roles.
Both are students of the game, although not necessarily reliant on the kinds of facts and figures many younger coaches put so much stock in.
With Strachan and O'Neill, it is more about a feel for the game, a knowledge built up over many years of how to get the best out of a group of players, individually and collectively.
Strachan may not be quite the icon O'Neill remains at Celtic Park, but he will certainly be the more popular of the two if he comes out on top on Friday night.