David Moyes: Ex-Man Utd boss backed at Real Sociedad
Last updated on .From the section European Football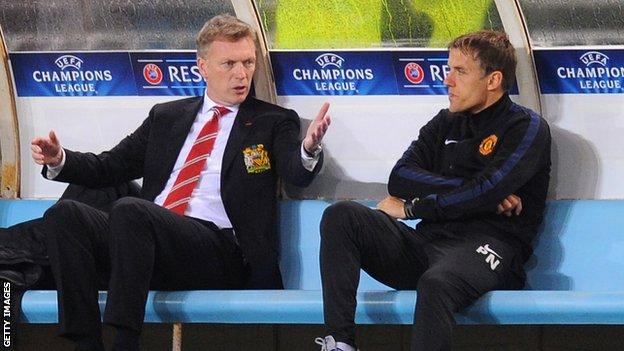 Phil Neville believes that Real Sociedad is the right club for former Manchester United boss David Moyes.
Neville spent nine seasons with Moyes, first as a player at Everton and then a coach at Goodison and Old Trafford.
"I think it will be a fantastic move for him," Neville told BBC Radio Manchester's Red Wednesday.
"He'll be able to concentrate on getting back to doing what he does best, and that's management.
"He's joined a club that have similar ambitions probably to Everton, I think that is why they employed him."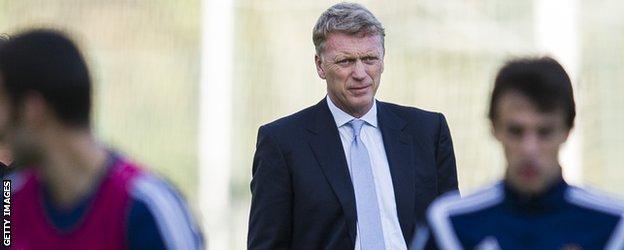 The former Preston and Everton boss replaces Jagoba Arrasate, who was dismissed by the Basque team after a run of results that has left them 15th in La Liga.
"I think they want David Moyes to take them down the same route he took Everton, to compete for a Champions League place," continued Neville.
"He's going to an area where they are fanatical about football - similar to Merseyside, really, the San Sebastian region - and I was with him last week and I know how excited he is to go out there."
Neville, 37, who now works as a pundit on Match of the Day, also dismissed rumours he was set to join Moyes at the Anoeta Stadium.
"No, I won't be going to Spain," added the former England international. "I'm so happy with what I'm doing and I get freedom to do with whatever I want.
"To move my family out to Spain at this moment in time wasn't what I wanted to do, because I just want to go on my own path."
Phil Neville on Manchester United this season
"I was involved in the club last year and I know there is a massive rebuilding project to be done. I think the positive at the moment is that we are in touching distant of the top four even though we haven't played particularly great. I think Louis van Gaal will get it right. He's benefitting from what David Moyes went through last year."
Under new manager Louis van Gaal, United had their worst start to a season since 1986, when they took 13 points from their opening 10 games.
Van Gaal has said it may take three years to get the Reds where he wants them to be, despite his summer outlay which included a British transfer record of Angel Di Maria for £59.7m.
One player Neville thinks could still be a hit is striker Radamel Falcao, who has netted just once in five appearances since joining on loan from Monaco.
"I was speaking to an Atletico Madrid scout at a game a couple of weeks ago," he added. "And bearing in mind they've had Sergio Aguero, Diego Costa and they've had Falcao - they say Falcao is the best of out of all those strikers.
"We need to get him fit and firing, at the moment he's not, and I think that's probably why we signed him on loan, because he's come back from a long-term injury.
"I think there are big question marks whether he is going to retain that fitness for a long period of time."