Cristiano Ronaldo v Lionel Messi - Ballon d'Or battle falls flat
By Chris Bevan
BBC Sport at Old Trafford
Last updated on .From the section European Football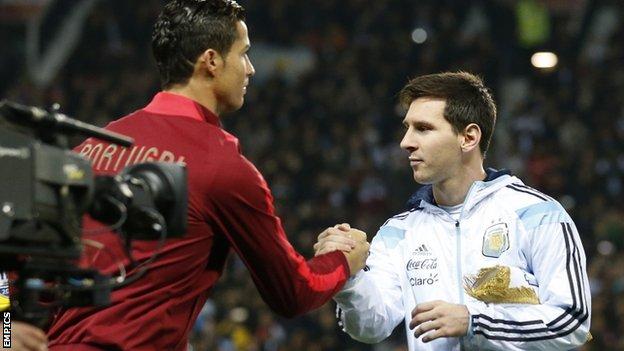 It was billed as their final battle for votes for this year's Ballon d'Or, but Cristiano Ronaldo and Lionel Messi's much-anticipated meeting in Manchester ended up being memorable for the wrong reasons.
Not only did the duo fail to truly duel during Portugal's 1-0 win over Argentina, they both only played 45 minutes before leaving the fans in a half-empty stadium to wonder why they had paid such high ticket prices to watch what was left of a disjointed game.
"It was bitterly disappointing that they both went off so early because seeing them was the sole reason I came to the game in the first place," said Caspar Carter, who had travelled from Leeds.
"We missed kick-off because we queued outside for an hour and paid £66 for our tickets, which is a lot to pay for 45 minutes of not very much," added his friend, James Morpeth.
Given the 41,000 crowd in a 75,000-capacity stadium meant the game's organisers failed to break even, they might regret the decision to bring Argentina, Portugal, and the two best players on the planet to Manchester in the first place.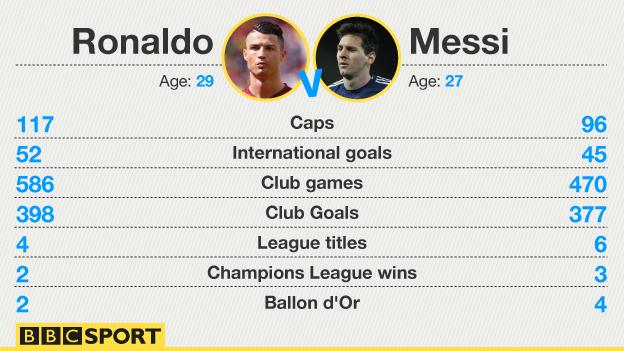 Ronaldo and Messi's first match-up on English soil since 2008 had appeared a dream for all concerned, especially when you consider the setting had special meaning for Ronaldo thanks to the six years he spent as a Manchester United player between 2003 and 2009.
The buzz of excitement that has surrounded him at Old Trafford since his United debut as an 18-year-old in 2003 was still in evidence on Tuesday evening and not just from the souvenir sellers outside the ground, who used the opportunity to sell some old T-shirts from his days as a Red Devil.
From the moment Ronaldo trotted out for the warm-up, it was clear most of the crowd was with him, and not Messi, but he was unable to respond with the sort of performance that was his trademark in a United shirt.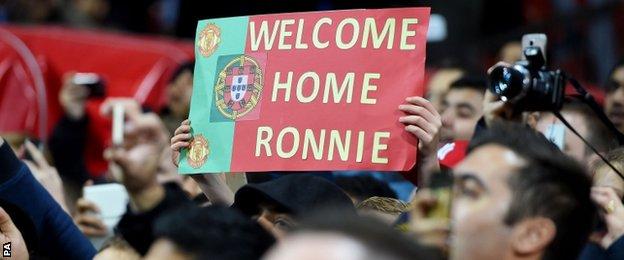 It was his great rival, greeted by more jeers than cheers whenever he touched the ball because of the greater number of Portugal fans inside the stadium, who shone brighter in the brief time he was given.
The Barcelona forward was a bundle of attacking energy and involved in all of his side's best moments before the break, setting up Angel Di Maria to fire wide, then being unlucky not to score when he hit the post after a neat one-two.
Ronaldo, meanwhile, was booed too - but only in jest when he passed up the chance to take a free-kick.
He managed a few nice feints and twists and turns, but they mostly took place in his own half. His one real chance to score, after three drag-backs in the Argentina area, saw him blast over when he should have passed to a better-placed team-mate.
It was a far from dazzling display, so the fans in the Stretford End who applauded him off at the break were probably expecting to get the chance to applaud him back on again at the start of the second half.
Instead, he failed to materialise, and the crowd's worst fears were realised when Messi also did not reappear.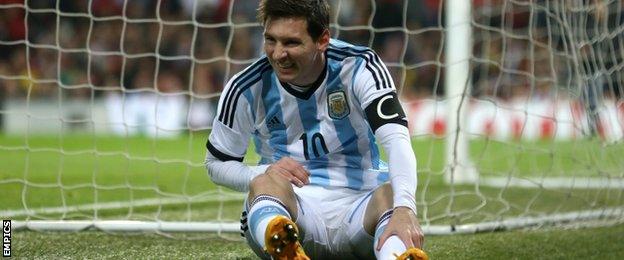 They were two of many substitutions on the night, but they were the ones who killed the atmosphere stone dead.
This friendly was always unlikely to answer the question of which of the two is currently the best player in the world but, for some, their exit did succeed in ending the debate over whether the evening had offered any value for money.
"Considering I had paid £50 to see them both, I thought it was shocking when they didn't come out for the second half," said Akram Aanif, from Birmingham.
"They had obviously arranged beforehand how long they would both play for and, if I had known, I would rather have stayed at home and watched the Scotland-England friendly on TV," added Suffyan Amjad from Burnley.
The game continued and most of the crowd remained, but there was little else for them to get excited about - the chance to boo former Manchester United and City striker Carlos Tevez, or cheer a pitch invader aside.
A crowd that had been easily distracted by, among others, the presence of Radamel Falcao, Anderson, Marouane Fellaini and Manuel Pellegrini in the directors' box, almost lost interest entirely.
Before Portugal's late winner gave some of them something to celebrate, their biggest show of enthusiasm had been a Mexican Wave that completed four circuits of the stadium. It was that kind of night.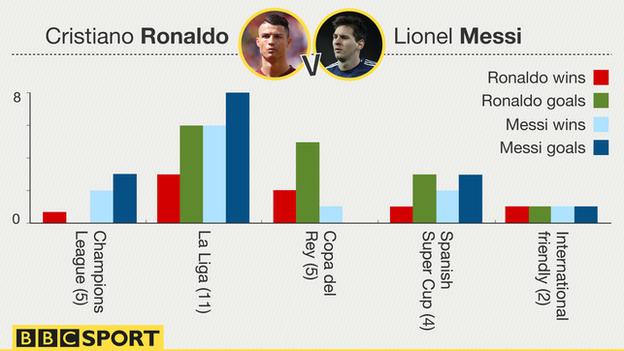 Raphael Guerreiro's goal did have some small bearing on Ronaldo's rivalry with Messi - bringing him a little closer in their head-to-head results record - even though the pair of them were showered and changed by the time his header went in.
But the end result was meaningless, something you could never describe the outcome of their next meeting as being.
That will not be on a pitch - the next El Clasico is not until March - but at a gala presentation in Zurich in January when the Ballon d'Or is handed out.
There will be a winner there too, but the difference is that people will remember who it is.