Africa Cup of Nations: moving 2015 event 'almost impossible'
Last updated on .From the section Football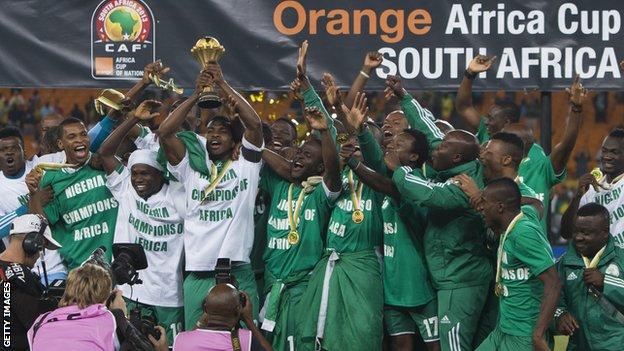 It will be almost impossible to stage the 2015 Africa Cup of Nations on time, says the man who organised the 2008 tournament in Ghana.
Morocco was due to stage the 2015 Cup but was removed as host after expressing fears over the Ebola virus.
The Confederation of African Football (Caf) insists the tournament will go ahead on time, starting on 17 January.
But Dr Kofi Amoah told the BBC: "It could be a sham. I don't think there is enough time for anyone to do it."
Caf said earlier this week that several countries had applied to stage the relocated event, and that a decision would be made in a matter of days.
Who will step in as host? - Nick Cavell, BBC Sport
Gabon,
who co-hosted in 2012 with Equatorial Guinea, has been mentioned, but they only have two stadiums available.
Tunisia
hosted in 2004 and has the venues, but recent political turmoil and violence at football matches might count them out.
Algeria
is one of seven nations who have said they want to host the 2017 tournament and are the only ones who might be in a position to host earlier.
Nigeria
hosted the Under-17 World Cup in 2009 and a new facility in Akwa-Ibom state. But presidential elections are set for a week after the tournament.
But Amoah believes that any country that steps in faces a "gargantuan" task to stage the tournament with just 65 days' notice.
"It could become a disgrace to African football," Amoah told BBC World Service. "Sixty to 70 days will not be adequate for most countries.
"There is a lot of stuff - accreditation systems, security, which is very important. Without that it'll be a mess."
Amoah says he supports Morocco's decision to ask for a postponement of the tournament.
"I don't think Morocco should be penalised. [They've done this] to protect the whole of Africa," he said.
"All the things that come into human necessity come into play and it would be best to postpone it."