Leyton Orient: Francesco Becchetti 'should communicate' with fans
Last updated on .From the section Leyton Orient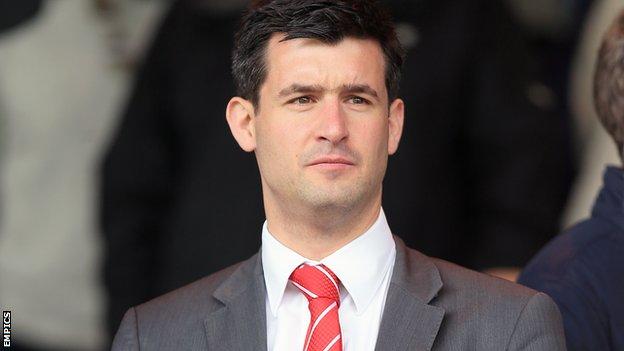 Former Leyton Orient chief executive Matt Porter has urged the club's owner Francesco Becchetti to communicate his plans with supporters.
"They need to decide the direction in which they want to go and be committed to that," Porter told BBC London 94.9.
"They should communicate clearly and be open and approachable."
He added: "When you are a small club like Leyton Orient, with limited resources and reach, if you are not all pulling in the same direction you have got no chance.
"The fans have been extremely patient.
"If the direction is the right one, then things should come together successfully and I hope they do."
Becchetti set his sights on reaching the Championship following his arrival at the Matchroom Stadium in July but the O's have struggled in the current campaign.
The east London club, who were beaten in the League One play-off final in May, are currently 20th in the table, having had three managers this season.
Russell Slade left for Cardiff in September and after Kevin Nugent had a spell in interim charge, Mauro Milanese was appointed boss last month.

Slade had been in charge since April 2010 and Porter believes that a period of stability is needed following the recent changes at the club.
"They need to look at how things have started for them and I'm sure they're not happy with that," Porter added.
"They have invested a lot in new players and not too many have perhaps delivered what they would have wanted them to have done.
"The key to our philosophy was stability and we always believed that that would bring success.
"We got to within a whisker of being a Championship club, which for a club of Leyton Orient's resources was a pretty decent effort."
Porter continued: "The new regime hasn't been as stable in its early stages and that has probably caused some of the issues. Three managers this season isn't what the players or the fans want.
"The most important is that the club has a stable period where it rebuilds to try and get back up to the level it was at six months or so ago."
Former Orient chief executive Matt Porter:
"There are resources available to the new owner to invest which we didn't have. That should be deemed as a positive and an opportunity for the club to push on."
Porter resigned from the Orient board of directors last month, having been chief executive from March 2006 until July this year and then remaining on the board following Becchetti's takeover.
He says that Hearn would have sold the club to the Italian even if the O's had been promoted to the Championship, given Becchetti's ability to invest more heavily in the club.
"There are resources available to the new owner which we didn't have," Porter said. "That should be deemed as a positive and an opportunity for the club to push on to a level beyond which we could have taken it.
"It is not irretrievable. It just needs steering back in the right direction."
Listen to an extended interview with Matt Porter in Saturday Sport on BBC London 94.9 after 13:00 GMT.