AFC Wimbledon submit Plough Lane stadium planning application
Last updated on .From the section Wimbledon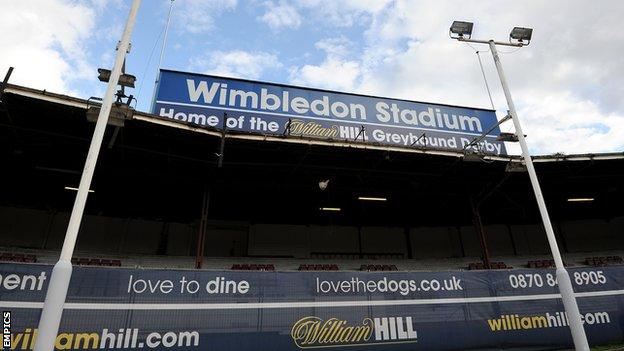 AFC Wimbledon have submitted a planning application to Merton Council for a new stadium at Plough Lane.
They propose building an 11,000-capacity stadium, which could be expanded to 20,000 later, on the site of Wimbledon Greyhound Stadium.
"This is the culmination of 18 months' intensive work," Dons chief executive Erik Samuelson told the club website.
"It is an extremely comprehensive proposal covering every aspect of the development and associated issues."
The League Two side's application also includes a proposal to build 600 residential units, in conjunction with Galliard Homes, along with retail and commercial space and a leisure club.
The Dons carried out an extensive public consultation this summer which helped to shape their plans.
"The detailed feedback from the consultation is contained in the planning application and will be available when the plans are verified by the council," Samuelson added.
"We ask everyone to be patient for a little longer before the details can be shared in a few weeks' time."
AFC Wimbledon, who currently play in Kingston, see a move to Plough Lane as a return to their spiritual home.

The original Wimbledon FC were forced to leave Plough Lane in 1991 following the publication of the Taylor Report, which, in the wake of the Hillsborough disaster, recommended that top-flight sides should play in all-seater stadiums.
They shared Selhurst Park with Crystal Palace until 2003, when they moved to Milton Keynes, having been given permission to relocate by an independent commission a year earlier.
The club were subsequently renamed MK Dons, while their old Plough Lane home became a residential development.
AFC Wimbledon, formed in 2002 in response to the relocation, have played all their home games at Kingsmeadow, also home to non-league Kingstonian, and took over the leasehold of the ground in March 2003.
Merton Council had asked for for suggestions for the redevelopment of the Greyhound Stadium in the autumn of 2013, and earlier this year an independent report for the council confirmed that site could be used for "sporting intensification".
Wimbledon is London's last remaining greyhound stadium after the closure of Walthamstow in 2008.