Scottish subtlety wins over Irish on a night of ugly, intoxicating football

By Tom English
BBC Scotland
Last updated on .From the section Football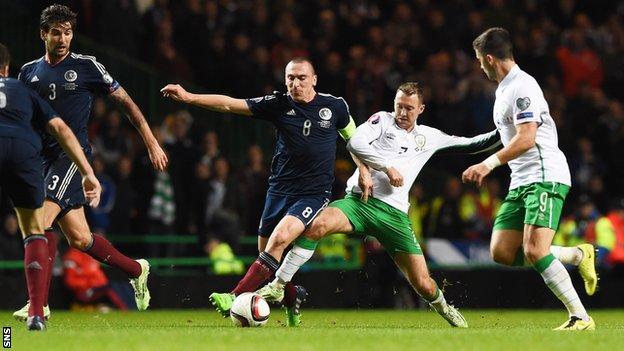 William Butler Yeats wasn't at Celtic Park on Friday night, but his near century-old line about a "terrible beauty" would have made a handy intro had the Irish poet been perched in the press box with a typewriter at his fingers.
Midway through the second half, as the kamikaze tackles mounted like cars in a pile-up on a motorway, former Scotland defender Willie Miller observed on BBC Radio Scotland that this was international football "but not as we know it".
The great man said it with a smile on his face, as if he was looking at a piece of footballing art, the gorgeousness of which was obvious to him. It was a theme that his old Aberdeen team-mate, Gordon Strachan, picked up on later.
Euro 2016 Qualifying Group D

P
W
D
L
GD
Pts
Poland

4

3

1

0

13

10

Germany

4

2

1

1

3

7

Scotland

4

2

1

1

1

7

Republic of Ireland

4

2

1

1

7

7

Georgia

4

1

0

3

-3

3

Gibraltar

4

0

0

4

-21

0
The Scotland coach called the game "mesmerising" and it was. It was mesmerising in the sense that here were two teams who were hell-bent on doing whatever needed to be done to get the result they were looking for, like boxers going toe-to-toe, trading blows until one of them fell.
Aesthetically, it was about as easy on the eye as Giant Haystacks versus Big Daddy - and a little more violent - but there was an honesty to it that was compelling. Both managers have created club-like atmospheres in their squads and this was a full-blooded derby. No quarter asked or given. No inch gained without having to ride a lusty tackle or two in the process.
Around Europe, in places that did not have the emotional investment many of us had on Friday, the DVD might serve as a warning to young children, the kind of thing a parent might threaten them with if they were to misbehave. "Do that again and it'll be the Scotland v Ireland DVD for you!"
On a night when players charged about like their hair was on fire, the precision of Shaun Maloney's finish was a contradiction. If the winner was in keeping with much of what went before, and after, then it would have been settled by some kind of footballing pinball; a ricochet amid a melee of bodies.

And yet, amid all the thunderclaps, the game was won by a sumptuous goal. The beauty amid the terrible. Watch the construction and execution again - and again - and it gets better every time. Maloney's curled finish into a space that only seconds before had been occupied by the evening's cartoon baddie, Aiden McGeady, will live long in the memory.
McGeady was booed all night, of course he was. But it was booing of a pantomime nature, as predicted by Strachan a fortnight ago. McGeady didn't have a good night, but it wasn't for lack of effort.
The other great creative force in this Irish team, Seamus Coleman, was similarly quiet. He had too much on his plate dealing with Ikechi Anya and Andrew Robertson to launch the kind of sorties that have made him the best attacking right-back in England's Premier League.
Robertson's emergence has been a revelation.
The campaign is still relatively young, but Strachan's team have accumulated some special moments not to mind some valuable points.

Essentially, Scotland's quality was the difference on Friday. In terms of commitment and maniacal will to succeed, there was nothing between the two teams at Celtic Park. Scotland had guile and Ireland did not.
Ireland toiled in a one-dimensional way. They were physical and they were direct, but they were about as subtle as a kick in the groin.
Scotland can do subtle nowadays. They can do brilliance when the mood strikes. They have that in their make-up. The game was a gruntathon, but it was decided by the kind of creativity and skill that is becoming something of a hallmark of the Scottish team.
Think Steven Fletcher and Anya in Germany and Maloney, again, in Poland. Strachan's team can scrap when they need to scrap - Charlie Mulgrew was a colossus in that regard - but they have another dimension and three or four players who can get them there.
This is what is exciting about this side. It's not just the results, it's some of the things that have brought about the results. There's been little flashes of world class and, as much as the present looks healthy, it's the optimism for the future of this side that is galvanising the country.
| Scotland's group fixtures | Republic of Ireland's group fixtures |
| --- | --- |
| Gibraltar (h) 29 Mar | Poland (h) 29 Mar |
| Republic of Ireland (a) 13 Jun | Scotland (h) 13 Jun |
| Georgia (a) 4 Sep | Gibraltar (a) 4 Sep |
| Germany (h) 7 Sep | Georgia (h) 7 Sep |
| Poland (h) 8 Oct | Germany (h) 8 Oct |
| Gibraltar (a) 11 Oct | Poland (a) 11 Oct |
What's also been prevalent is something that all managers need - luck. Scotland have had it at critical times. The Tartan Army might argue that good fortune was overdue, but there is no denying that the footballing gods have smiled on Scotland in key moments in some of their matches.
There was the late miss from Georgia's Irakli Dzarla at Ibrox when all the stadium closed their eyes in fear of the worst. There was the late scare in Poland when Kamil Grosicki slapped a shot off David Marshall's right-hand post. There was another late fright on Friday when Grant Hanley headed on to Marshall's crossbar. Good fortune - but deserved.
Nobody could legitimately argue that Scotland didn't warrant three points against Georgia, one point against Poland and another three against the Republic of Ireland, but they needed a break along the way.
The point is that this Scotland team is now good enough to capitalise on such things, whereas before it was not. The mental fragility has gone. The belief courses through them. This is a side that want to play, but it can fight if it must.
Friday was a night for a fight, the irony being that the knockout blow came by way of an artful jab that, amid the aggression, Ireland couldn't see coming.