England defence a worry but Roy Hodgson should stay - Shilton
Last updated on .From the section England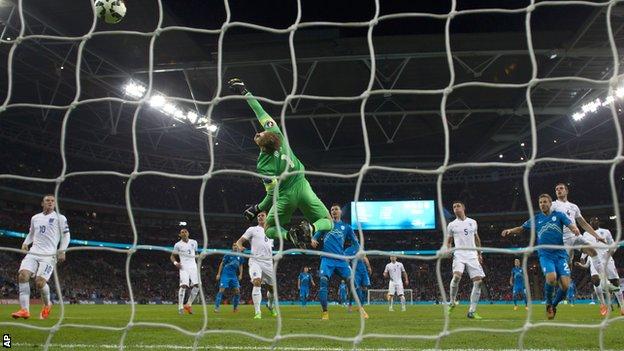 Ex-captain Peter Shilton is "disturbed" by England's defence but hopes manager Roy Hodgson stays on beyond 2016.
Hodgson, 67, who signed a four-year deal in 2012, has seen his team win all four Euro 2016 qualifying games so far.
"We need stability, he's got a lot of experience. I wouldn't have any qualms about a new contract," Shilton said.
A 3-1 victory over Slovenia at Wembley on Saturday maintained England's 100% record in European Championship qualifying Group E.
They have scored 11 goals with just the one conceded in four games and had been bidding for a record-equalling sixth successive clean sheet.
However, Shilton remains unconvinced of the team's solidity in the backline.
"I'm a bit disturbed with us at the back, we need another two or three solid defenders, but overall I think we are on the right lines," Shilton said.
England's run of clean sheets
World Cup:
Costa Rica 0-0 England
Friendly:
England 1-0 Norway
Euro 2016 qualification:
Switzerland 0-2 England
Euro 2016 qualification:
England 5-0 San Marino
Euro 2016 qualification:
Estonia 0-1 England
Hodgson presided over a disappointing World Cup campaign in Brazil when England failed to qualify for the knockout stages and finished bottom of their group, losing to Italy and Uruguay and taking their only point with a 0-0 draw against Costa Rica.
"I wasn't all doom and gloom after the World Cup," England appearance record holder Shilton, 65, said in an interview with BBC Radio 5 live's Sportsweek.
"I saw signs there, he took a lot of young players, he started building a young squad.
"There are still players in the Under-21s that will eventually get in the squad, we haven't seen the best of [Everton's Ross] Barkley yet, he is still a young lad, he has always reminded me a bit of Gazza [former England playmaker Paul Gascoigne], in terms of ability. I see us improving."
Former England midfielder Chris Waddle
"It's not about two years' time, it's about now. At the minute, this group is very weak and England just have to turn up to get results. We keep playing this diamond which doesn't work. We've got people with pace out wide, use it. Don't put them in the middle of the park where it's congested."
England captain Wayne Rooney won his 100th cap in Saturday's match and the 29-year-old Manchester United striker is expected to pass former goalkeeper Shilton's record of 125.
"Wayne is a bulldog, he loves the game, he very rarely gets injured, he can take knocks and he could play for at least a couple of years, if not more," Shilton said.
"If it [the record] does go I will be the first to congratulate him, I still think it will be hard for him, but it's not impossible.
"When you get to the 29-30 mark mostly for strikers it's a little bit downhill, they can lose it fairly quickly. I remember Gary Lineker and Michael Owen seemed to go a little bit overnight. It's the hardest bit for him, he's not getting any younger, but if he does break it will be a pleasure to shake his hand and say well done."