World Cup bidding was like 'Wild West', says Sir Hugh Robertson
Last updated on .From the section Football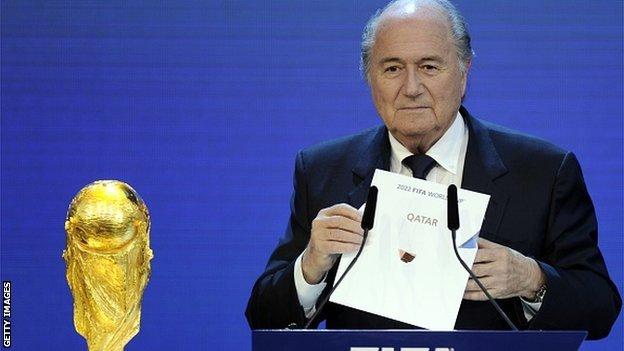 Former Sports Minister Sir Hugh Robertson says he was told bidding for the 2018 and 2022 World Cups was like a "Wild West" process.
Robertson was part of England's attempt to host the 2018 event, which was awarded to Russia in 2010, at the same time Qatar won the vote for 2022.
Robertson said one of the England bid team told him "there are no rules".
Qatar were cleared of wrongdoing, but Michael Garcia, who investigated claims of corruption, questioned the report.
"The words Fifa and corruption are inextricably linked," Robertson told BBC Radio 5 live's Sportsweek.
"The only way they could start to repair their reputation is to produce that report in full, to shine a light into dark places, but the chances are extremely limited."
Fifa's report, drawn up by independent ethics adjudicator Hans-Joachim Eckert after Garcia conducted a two-year inquiry, accused the Football Association of flouting bidding rules.
But Garcia said the report "contains numerous materially incomplete and erroneous representations".
Robertson, appointed minister for sport in May 2010, said it quickly became clear to him the process was flawed.
He said: "I asked the question when I became sports minister about what we were and were not allowed to do, and one of them said, and I quote exactly: 'There are no rules, it is a Wild West of a bidding process.'"
The MP for Faversham and Mid Kent added: "We've been quite honest about what we did and I suspect quite a lot of other bidding nations have not been.
"My guess is there is huge panic behind the scenes at Fifa about what really happened and I would be amazed if we ever get the truth."
Robertson said Fifa were the "key people" to blame.
He said: "They ran a process that had no clear rules and compounded that error by linking 2018 and 2022, which encouraged the various bidding delegations to trade votes."