Roy Keane wants talks over James McCarthy & Seamus Coleman
Last updated on .From the section Football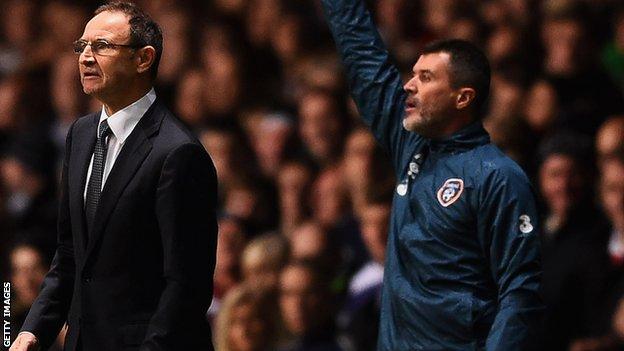 Republic of Ireland assistant boss Roy Keane believes manager Martin O'Neill should hold talks with Everton to discuss the fitness of James McCarthy and Seamus Coleman.
But both played for Everton four days after the Germany match.
"You always get the impression from Everton that Seamus and James are both barely able to walk," said Keane, 43.
"So when they actually turn up and they are walking through the reception, you think 'Praise the Lord, it's a miracle'," he added.
Everton chairman Bill Kenwright reacted angrily to Keane's comments.
"I'm a big fan of Roy Keane, but he does say some stupid things," said Kenwright. "That is just totally totally unfair.
"We absolutely love our players going on international duty and we never ever get in the way of them and manager Roberto Martinez will be as shocked as everyone at Everton."
McCarthy linked up with the Republic squad before Friday's Euro qualifier defeat by Scotland only to rejoin his club a day before the game.
"I worry that McCarthy is under lots of pressure, particularly from Everton's point of view," continued Keane.
"There has to be some sort of sit-down conversation."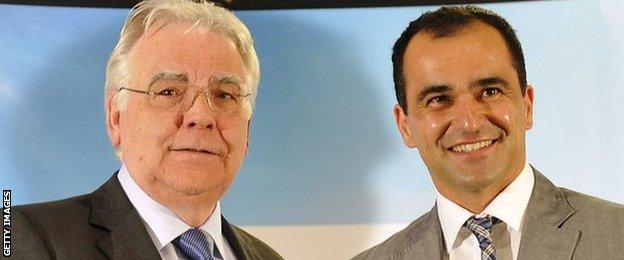 Keane suggested that the Everton manager might not be aware of how important the qualifying games are for the Republic.
"I don't think Roberto has ever played at senior international level," said Keane. "Maybe he doesn't appreciate how big it is for us and how big the games are for us."
When asked about the Everton issue on Monday afternoon, Republic boss O'Neill adopted a more conciliatory stance.
"The two lads were not fit for the game against Gibraltar and Germany, and obviously played [for Everton] a couple of days later. That is understandable," said O'Neill.
"James does have a muscle injury. He came here, he was wanting to try it and really wanted to give it a go.
"We always thought that time would be against us and I think he will be perfectly all right to play at the weekend for his club. There isn't much more I can say about it."
Asked about Keane's intervention on Sunday, O'Neill replied:"It is not my job to read the newspapers every single morning."
The assistant manager's news conference on Sunday also saw him insisting that Republic captain Robbie Keane still has a major role to play for the Irish.
The LA Galaxy striker, 34, was dropped for Friday's defeat in Glasgow for the first time in 13 years, although he was introduced late in the game.
Keane, who has a record number of caps and goals for the Republic, has been released for Tuesday's friendly against the United States in Dublin to prepare for next Sunday's MLS play-offs game against Seattle Sounders.
"Robbie Keane is massive for this team," said Roy Keane.
"He's a top, top player. He's been doing it for years and hopefully he will score goals for the next number of years."
During a news conference on Sunday, Roy Keane was also asked about an incident in the Republic's hotel on Wednesday night when he had an alleged confrontation with a member of the public.
The Gardai were called following the incident although no arrests or complaints were made.
Keane said: "Who the hell do you think you are? I've got to answer to you? I answer to the Football Association of Ireland and Martin O'Neill."