Scottish football heroes on Scotland-England matches

By Keir Murray
BBC Sport Scotland
Last updated on .From the section Football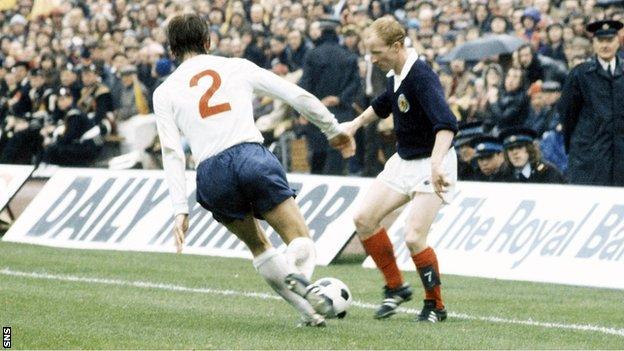 International Friendly: Scotland v England
Date:
Tuesday, 18 November
Venue:
Celtic Park, Glasgow
Kick-off:
20:00 GMT
Coverage:
Listen on BBC Radio Scotland 810MW/DAB/online; live text commentary on BBC Sport website
The latest instalment of the oldest international football match in the world takes place at Celtic Park in Glasgow on Tuesday evening.
Scotland and England lock horns once again, this time in a friendly following recent wins for both nations in Euro 2016 qualifying.
Four prominent figures from Scottish football across the years spoke to BBC Scotland about the famous fixture.
Scotland's joint all-time top scorer Denis Law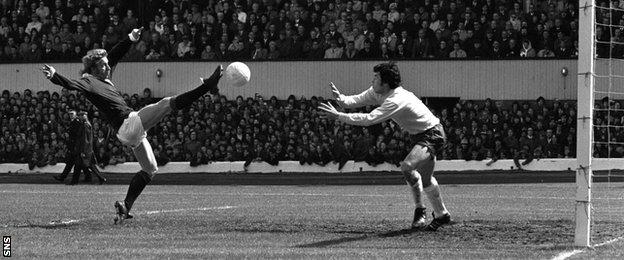 "Somebody mentioned the other day the 9-3 [win for England over Scotland in 1961 at Wembley]. I can't remember that game at all.
"The game I do remember is when we beat them when they were world champions [a 3-2 Wembley win for Scotland in 1967]. It was extremely good. I managed to get one, from four yards out - that was my distance. Scotland had a very good team in those days. It was just a shame that, with the team that we had, we didn't qualify for the World Cup."
Former Scotland defender Gordon McQueen (30 caps)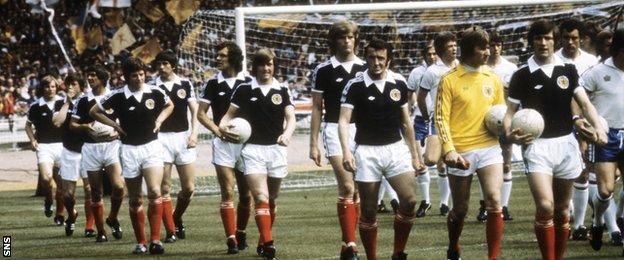 "Scotland-England is always a game that every Scotland fan wants to win. There will be a full house at Celtic Park. I've played in plenty of them. It means so much to the Tartan Army. It really does turn them on to you if you manage to get a result against them.
"I've been lucky enough to be in a side that did get a result against them and I'm hoping that happens again.
"You've got to be careful and not underestimate English supporters. They are pretty passionate about their country as well. They take huge supports to the European Championships and World Cup finals.
"But does it mean as much to English fans as it does to the Scottish fans? I don't think so. You only have to see the reaction of the Scottish fans when we do get a result at Wembley or Hampden or anywhere else."
Former Scotland striker Peter Lorimer (21 caps)
"We had about seven or eight Scottish players at Leeds - we had Billy [Bremner], Eddie [Gray], myself, [Joe] Jordan, [Gordon] McQueen, Frankie Gray. Don Revie had an idea that we'd have a five-a-side tournament pre-season. The Scotland-England game lasted about two minutes because war broke out. We were playing as if there 130,000 at the game. It just showed the passion.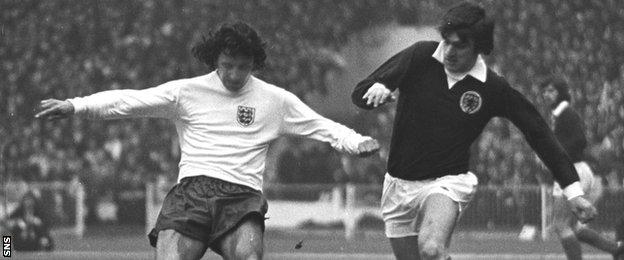 "People go on about players of our time being robbed, that they didn't get the money they should have got. To think you played in front of 132,000 people at Hampden, 100,000 at Wembley, and you got about 50 quid, I think that tells you how badly the players were treated.
"But it wasn't about money. When you walked out that tunnel and the noise hit you, you didn't need money. It was about going out there and performing to beat the enemy.
"When you got picked for that great game you couldn't wait to ring your mother. She'd say, 'Wonderful, we're all coming. We've got a bus on stand-by - there are 40 of us.'
"I was the so-called high-flyer playing for Leeds. You couldn't expect them to buy tickets. The Scottish FA were very kind - we got two complimentaries! They did keep some in reserve that we could buy but they were four or five quid. Playing in that match, to the individual, was a financial disaster, but I was just so proud my family was coming from Dundee to see me. Money didn't come into it.
"I'm sure Scotland will do well. Gordon [Strachan] is doing a fantastic job. The Tartan Army are so loyal. Scotland's a special place and to have managers from another country, I never agreed with it, because I don't think they know what kind of passion this country generates.
"Now that Gordon is there I see players proud to go out and run for that jersey and give it all they've got. People down in England are saying, "Hey, the Jocks are improving' and it gives me great enjoyment to hear that."
Former Scotland manager Walter Smith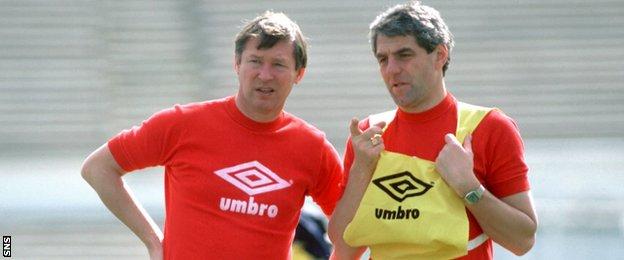 "Just before we went to [the World Cup finals in] Mexico in 1986 I was assistant to Sir Alex Ferguson and we lost at Wembley - 2-1 to England if I remember correctly. Hopefully we can reverse that result a little bit.
"Scotland will be well set in how they are approaching the games. I don't think any manager will have to fire up his Scottish team to play England. It's a big game for everyone.
"Gordon's approach will be very similar to his approach for other matches. I think he'll leave it to the players to get themselves up for that one."