Football Supporters' Federation against more live TV games
By Mandeep Sanghera
BBC Sport
Last updated on .From the section Football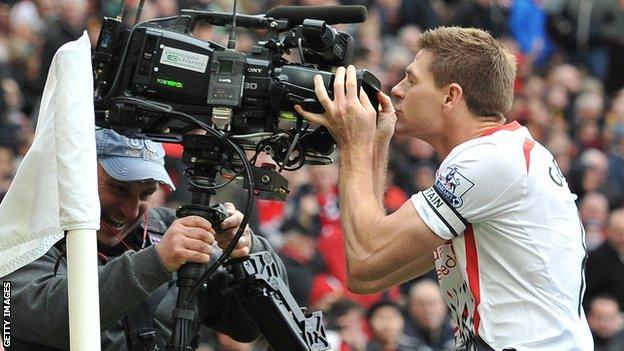 The Football Supporters' Federation is against televising more top-flight matches and especially any 3pm kick-offs, says its chairman Malcolm Clarke.
At present, live games cannot be shown in England between 14:45 GMT and 17:15 GMT.
"It's very important to retain the 3pm window and we'd have major reservations about a further significant increase in televised football," said Clarke.
The price for the current TV rights deal spanning 2013-16 is worth £3bn and is shared by BSkyB and BT.
The Premier League will soon start the bidding process for the next set of rights but Virgin is unhappy with the current "collective selling" arrangements.
Virgin argues fewer games are available for live viewing in the UK than other countries, although Clarke believes more games on television will have a detrimental effect on the game in the UK and provide little benefit for fans.
"Most fans think we've probably reached television saturation point and it's not in the game's interests to increase the number even further," said Clarke.
"A 3pm kick-off on Saturday is part of the tradition of English football. We've lost some of that with the number of games that are now being moved, which many fans are unhappy about.
"But if it goes a step further so that you have got live television games up against the normal 3pm kick-off, it could have a very adverse effect on gates lower down the leagues and we would be opposed to that."
Part of Ofcom's investigation will see it consult the FSF and other supporters' groups.
Clarke added: "We've seen no evidence so far that increased media rights benefit the ordinary fan, either sitting at home watching a game on television or going to the matches.
"It has benefitted owners, highly paid executives, players and agents but not us."
BBC sports editor Dan Roan:
"Virgin Media argues TV consumers in England have to spend a lot more than their European counterparts to watch live football, because the Premier League only releases 41% of matches for live TV, and you have to buy both Sky and BT to watch all of them.
"The Premier League says it wants to protect attendances in the traditional 3pm Saturday slot, and that if they showed all matches on live TV it would hurt clubs.
"However, Virgin Media (who want to pay less themselves to show live football) points to the rest of Europe where many more games are available to watch live, which increases competition and lowers prices for the consumer."
Read more