Sam Rush wants to realise Derby County Premier League dream
Last updated on .From the section Derby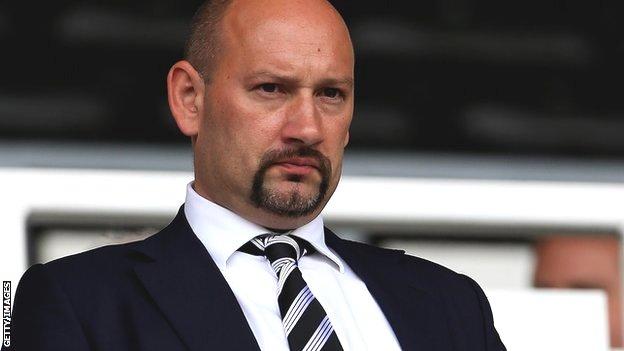 Chief executive Sam Rush has insisted he wants to stay at Derby County and see through the dream of winning promotion to the Premier League.
He told a BBC Radio Derby Sportscene Special: "We are just starting out.
"We had to do quite a lot of difficult and unglamorous stuff and, as a result of that, we are in a good place now."
McClaren arrived following Nigel Clough's sacking and sparked an improvement that saw the Rams reach the Championship play-off final last season.
Steve McClaren on chief executive Sam Rush
"The key thing is when you sit down with him he says 'what do you need next? What do you need now? What do you need to improve? What do you need for the players? Do you need any players? What can we do to help?'"
CEO Rush is 'glue that binds Derby'
They have continued their form this term, winning nine and losing just three of their 17 league games and reaching the quarter-finals of the League Cup.
Rush, who pledged his "immediate future" to the club, added: "We still have a huge amount of work to do.
"Steve McClaren said a few months ago that nothing would give him greater pride than if he went up with Derby. And I think that, from my point of view, nothing would give me greater pride than to go up with Derby.
"If you invest the time, emotion and commitment in the club then you want to see that through and we are a long way away from achieving what I want to achieve with Derby County."