Scotland chastened but not crushed by dominant England

By Tom English
BBC Scotland at Celtic Park
Last updated on .From the section Football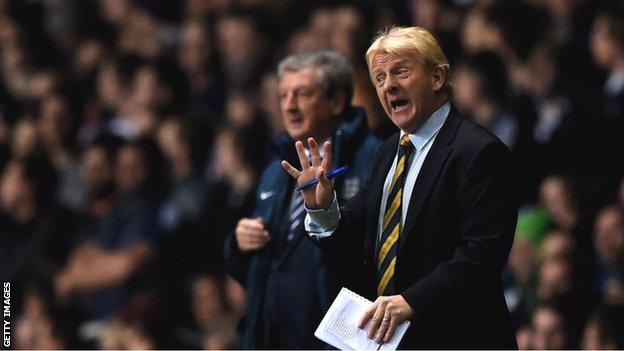 Long after the Tartan Army had exited Celtic Park, in sheepish fashion compared to the lions that had roared their way into the place a few hours before, they were still being subjected to a strange kind of serenading by their opposite numbers.
The stadium was empty save for the England fans and their noise, their goading of departed rivals, their basking in .
As they made their way out the gate and up London Road, the home supporters would have heard them still, chanting about Gordon Strachan and belittling his team.
It wasn't pretty but at least it wasn't as moronic as the IRA-related chants that came from a section of the away end, which manager Roy Hodgson had to apologise for afterwards on behalf of the English FA.
This was an occasion that began as a tempest and finished in relative calm, the edge taken off the thunder by England's excellence. England played with intensity, hunger and pace. They set about Scotland as if they'd been angered by the hosts' new-found belief in their capacity to turn over the Auld Enemy.
England came here to re-establish order - and they did so, emphatically.
Gordon Strachan was right when he said later that his team won the match they had to win - against the Republic of Ireland - and that this one was a mental shift too far. He was fulsome in his praise of England and he was right there, too. They were slick from the start. Wayne Rooney scored twice but it was his leadership as much as his goals that stood out.
Tom English
"Strachan was asked for his Scottish highlights. He said he'd give it a day or two and would come up with something."
They were better in every department. Jack Wilshere was wonderful in the middle of the park. Nathaniel Clyne carried his outstanding Southampton form on to a higher level. Rooney and his team fronted-up in a difficult environment.
This was a substantial performance from a team not known for them of late.
Strachan was asked for his Scottish highlights. He said he'd give it a day or two and would come up with something. You could suggest that one of the high-points was the half-time break, those precious minutes when England weren't coursing them around Celtic Park.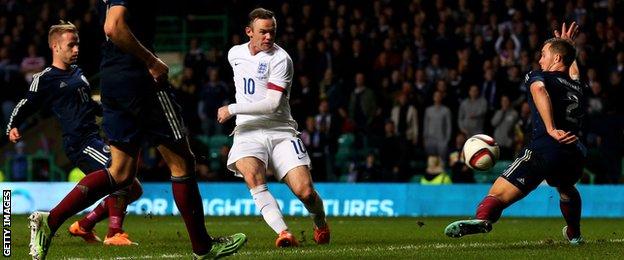 The half-time break and the little scene that followed directly after, when Darren Fletcher stood on the touchline waiting to make his entrance. Fletcher, brave as you like in the face of long-running illness, was greeted warmly by Rooney and Danny Welbeck, his team-mates present and past.
Amid the maelstrom, it was a classy and heart-warming moment. And there was another. Jogging on to the pitch for the second half was Craig Gordon and here again the home support rose as one in acclamation of a talented player and a proper trooper.
Gordon has had his troubles, too. Time was - not that long ago - when the thought of him putting his myriad injury woes behind him and playing for his country again would have been deemed fanciful to the point of delusional, but there he was. Another positive for Gordon Strachan's team.
The others? The rain stayed off. The traffic wasn't bad. England only scored three. Stevie May made his debut. So did Johnny Russell, who played particularly well. Andrew Robertson got his first goal for his country on an otherwise challenging evening.
Beyond that? A struggle.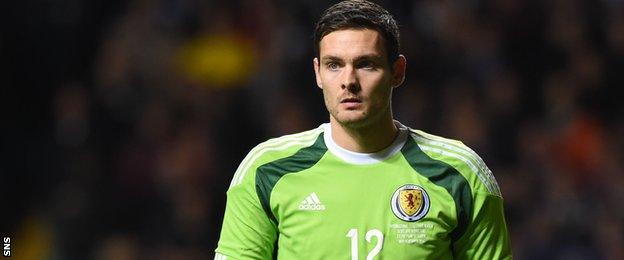 Strachan made just one change to the team that beat the Republic. Chris Martin was given a start up front but he was peripheral in the time he spent on the pitch. If Martin is to be considered a viable alternative to Steven Fletcher then the evidence is going to have to wait a little while longer.
The night in microcosm. The second half is 30 seconds old when Charlie Mulgrew gives the ball away to Alex Oxlade-Chamberlain who scampers downfield, his run only brought to an end when Mulgrew hauls him down and earns himself a yellow card. The free-kick comes in and Scotland's defence fail to deal with it. It's pinball in there. Nobody knows where the thing is going, apart from Rooney, who twists his neck, as if it's made of elastic, and nuts it home.
Those few minutes were instructive in that they were the polar opposite of Friday. England were not the Republic of Ireland for a start. They were bright, dangerous and far too good. And Mulgrew wasn't Mulgrew. Scott Brown wasn't Scott Brown. Shaun Maloney wasn't Shaun Maloney.
Scotland needed all their big players to be colossal again. They needed concentration, discipline, accuracy, energy but in all those departments they were less than they were on Friday and England lorded it as a consequence.
If Strachan was right when comparing Friday to a heavyweight slugfest then expecting them to go toe-to-toe again five days later was a stretch, especially against an England that were full of running power and strength and goal-threat.
The Scotland manager wasn't making a drama out of it in the aftermath. It was obvious what went down. It was equally obvious that this was a bad night at the end of some pleasing times. No need to get emotional. Scotland got well-beaten by a team playing as well as it has done for quite a while.
The relief is that, despite this beating, Scotland's qualifying group for Euro 2016 will still look the same, even if some of the players looking at it will feel a little chastened.