Brian Little: Jersey director of football will be based in England
Last updated on .From the section Football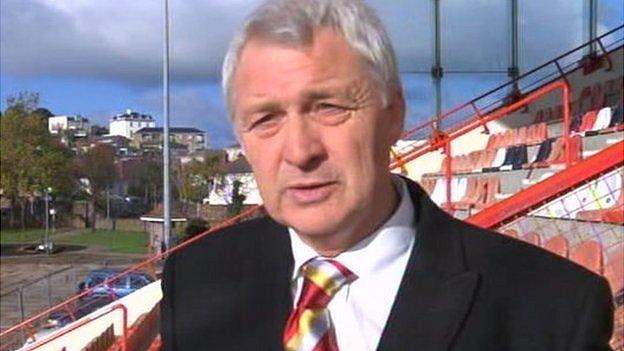 Jersey's new director of football Brian Little says he will spend the majority of his time away from the island.
The former Aston Villa boss has the aim of increasing opportunities for island players in the newly-created role.
"A lot of work I need to do is working back in England," Little said.
"There are certain things that I need to do here, but I don't think it's possible for me to spend every week or two or three days of every week here, I don't think that would really work."
Brian Little
"My message to everyone over here is I'm not here to interfere, I'm not here to tell people what to do, I'm here to try and help."
Little led Villa to the League Cup and a fifth-placed-finish in the Premier league in the 1995-96 season and also managed in the Football League with Leicester City, West Bromwich Albion, Darlington, Stoke, Hull, Tranmere and Wrexham.
His last managerial job was with Gainsborough Trinity in 2011 and he currently works as a football pundit on television.
"I need to be able to come here when there is specific things for me to do," Little told BBC Radio Jersey.
"It would be nice to be here bringing a team over, but it would also be nice to perhaps use some of the facilities that there are back in England, for example St George's Park, which is a great facility, and perhaps put some football on there as part of the games programme for the players.
Jersey fixtures 2014-15
20 October 2014:
Beat 26th Army regiment 7-0
at home
22 October 2014:
Beat 26th Army regiment 4-0
at home
28 March 2015: Alderney away (Muratti Vase semi-final)
4 May 2015: Essex and Suffolk Border League
17 May 2015: Guernsey away (Muratti Vase final, if Jersey beat Alderney)
"There are lots of things whizzing around in my head, it's not massively important that I'm here every week. I think if I was here every week I would probably not be doing enough to help out."
Little was also keen to stress that he will not be involved with the selection of the island side, but will instead be hoping to use his contacts to increase the opportunities for Jersey to play matches both in the island and in the UK.
Former Jersey manager Craig Culkin has been looking into following the success of Guernsey FC, who now play in the Isthmian league in England.
"My message to everyone over here is I'm not here to interfere, I'm not here to tell people what to do, I'm here to try and help.
"I feel with 45 years of experience of professional football behind me that I hopefully will be able to help in some way so we'll find out where we get to.
"My short-term plans are to try and help with the game programme with the senior players, that's probably the most important area.
"I don't think it's worth me predicting the long-term thing. I think it's important to try and walk first, try and open the doors somewhere in terms of making one or two things happen and that in itself will open other doors for us."