Rangers: Brian Kennedy offer aimed to 'protect' Ibrox in trust

By Richard Wilson
BBC Scotland
Last updated on .From the section Rangers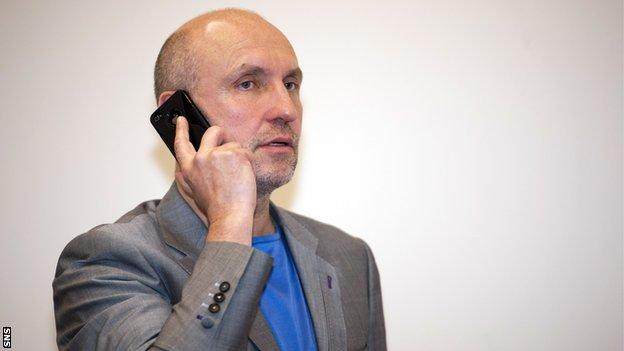 Brian Kennedy asked the Rangers board to "protect" Ibrox Stadium "in a trust" as a condition of his loan offer.
Kennedy had been approached last month by Graham Wallace as the then chief executive sought short-term funding.
The Sale Sharks owner initially sought a nominal 3% interest on the loan but made it clear that this could have been negotiated to zero.
Kennedy was told that there were no objections to his terms, but the board instead accepted Mike Ashley's loan.
David Somers, the executive chairman, has insisted that the board went with the £2m deal with Ashley, who was already a shareholder and whose Sports Direct has a retail agreement with Rangers because it was for zero interest and "less security", with the Englishman wanting it secured against Edmiston House and the Albion car park.
Kennedy felt moved to respond, to clarify events and set out his offer, which he made with the intention that it would provide time for the club to accept an offer of investment in return for equity from a consortium of fans including Dave King, or for a share issue.

"The CEO of Rangers PLC approached me on 22 October 2014 asking whether I would be willing to provide a short-term loan," Kennedy said.
"After much discussion between the parties, the following terms were offered on Friday 24 October 2014: A £3m facility for a period of six months from the date of the drawdown.
"Three per cent annual charge. Fixed security charge over Albion Car Park and Edmiston House. The board of RFC would endeavour in the future to extend this to security over Murray Park as they were unable to grant such at this time.
"Ibrox Stadium to be protected in a trust or a similar legal mechanism that would allow this asset to be used solely for RFC in whatever legal entity to play football in perpetuity.
"Paul Murray to be appointed to the plc main board for a period of 24 months. A lightweight floating charge over all assets except Ibrox Stadium.
"No qualifying floating charge to be granted to any other party. In the event of administration, the lender would have the right to appoint the administrator."
George Letham, a Rangers fan and shareholder who has loaned the club money in the past, was to provide £1m of the £3m.
Ashley has already made a further £1m available and the club has admitted that more money will be required to allow the business to trade until the end of December.
Rangers football board chairman Sandy Easdale
"Unfortunately, the consequences of Mr King's inaccurate and ill-advised statement serves further to destabilise the club and upsets the fan base at this very sensitive time. I have grown tired of his antics."
"The loan was designed to give the board of Rangers PLC the time to pursue Dave King's offer and/or a new share issue in order to ensure long-term financial security," Kennedy said.
"Furthermore, the appointment of Paul Murray would provide much-needed harmony between the board and the supporters. I was informed by Mr Somers that the board had no objections to any of these terms.
"He later informed me that he had made the decision to go with Mr Ashley's offer after consultation with the major shareholders. This is their prerogative."
King and his consortium had already reacted to Somers' claim that its offer of £16m, in return for an equity stake and control of the board, could not be accepted because proof of funds were not made available and the identities of all the investors were not known.
The group insisted that it had agreed to provide all the necessary information upon acceptance of its offer from shareholders, whose agreement was required to facilitate the issuing of new shares.
King also urged fans to stop supporting the club financially on match days and through buying merchandise. The terms of Sports Direct's retail agreement have been altered since Ashley's loan was accepted.

Among the conditions were that he could appoint two representatives to the board, with Derek Llambias being appointed as a non-executjve director.
He has also been a prominent figure at Ibrox, where up to 10 administrative staff were made redundant.
King's statement drew an angry response from shareholder and football board chairman Sandy Easdale.
"I am 100% supportive of the stance taken by David Somers, our PLC chairman," Easdale said.
"David had a legal and regulatory duty to determine the legitimacy of Mr King's offer. Any suggestion on Mr King's part that I had agreed that these contentious issues could be dealt with after an acceptance of his bid are inaccurate and misleading.
"My remit as chairman of the football board does not permit me to make such assurances.
"Mr King did not satisfy David Somers' reasonable and corporately responsible questions regarding proof of funds at any point whatsoever.
"The suggestion that Mr King could not proceed further because my shareholding and proxies would have blocked his bid is a nonsense. For a bid to be rejected, it has to be received first.
"I can only conclude that Mr King's phantom bid was designed as a vehicle for self-promotion.
"Unfortunately, the consequences of his inaccurate and ill-advised statement serves further to destabilise the club and upsets the fan base at this very sensitive time. I have grown tired of Mr King's antics."