Roger Espinoza: Wigan midfielder denies Rosler 'homesick' claims
Last updated on .From the section Wigan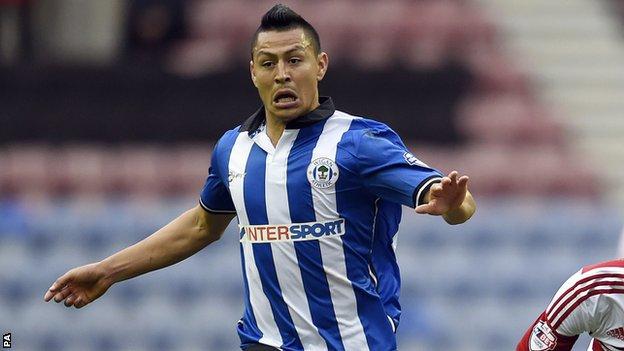 Wigan midfielder Roger Espinoza has denied claims made by former Latics boss Uwe Rosler that he wanted to leave the club because he was homesick.
"I'm definitely not homesick, that's the truth," he told the club website.
"I can say I've never been homesick, I've been away from home since I was 17 years old."
The Honduras international played all three matches for his country at the World Cup in the summer, and Rosler - who was dismissed last week after a disappointing start to the season - had also suggested Espinoza was struggling for motivation after his exertions in Brazil.
But Espinoza said he was committed to Wigan and wanted to stay at the DW Stadium, although he admitted he had been interested in a move while he was out of the first team.
"It's been tough because when I arrived at the club I had a manager who wanted me and since I've had a couple of different managers and there are a lot of changes with new people coming into the team," added Espinoza, who only featured seven times under Rosler.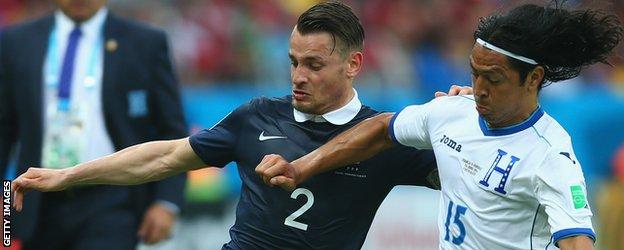 "It's been kind of hard to get a run going and these last few weeks have been one of my best runs in the team and hopefully I can keep that going.
"The plan is to stay here. Players don't like to move around because it's a crazy process.
"When I haven't been playing and the manager didn't count on me or see me as someone who could help the team then I had to look somewhere else, right? Right now, I've got a contract here, I respect that and I'll try my best all the time.
"We'll see what happens from now on. There are opportunities for me to go back home, but not because I'm homesick, it's because I want to play football."