Blackburn Rovers: Paul Robinson still has future at club
Last updated on .From the section Football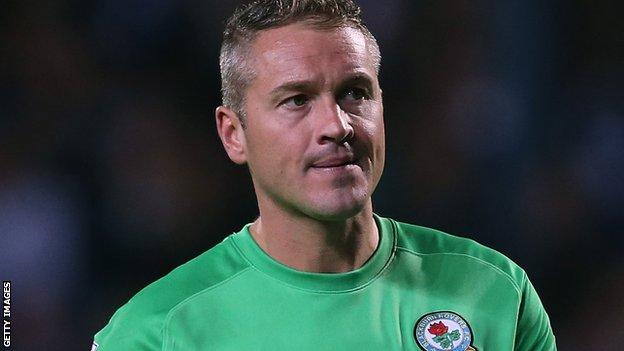 Blackburn Rovers manager Gary Bowyer says goalkeeper Paul Robinson still has a future at the club, despite his recent absence from the team.
The former England goalkeeper told the Lancashire Telegraph he would be looking to possibly move in January.
"For any player who is contracted then it's not over," said Bowyer.
"Those conversations haven't taken place, no-one has said [your Blackburn career is over] that to him.
Paul Robinson's career
Leeds United (1998-2004) - 119 appearances
Tottenham Hotspur (2004-08) - 175 appearances
Blackburn Rovers (2008-) - 202 appearances
"It's competition and it's healthy competition - and everybody has to take that competition on."
Robinson, who is out of contract at the end of the season, began the campaign as first choice, making seven appearances, before he was ruled out with his injury.
In recent weeks the former Leeds and Tottenham keeper has not even been in the matchday squad, prompting speculation he was set to leave.
"I understand his disappointment and frustration," Bowyer told BBC Radio Lancashire. "Everybody just has to get on with it and that's what the message has been.
"Obviously the January window comes and if something was to happen that suits everybody, then it's the same with any player, we have to have a look at it.
"Until then they're all contracted to Blackburn and they're expected to train hard."