Fifa 'corruption' report: Compliance chief to analyse full report
Last updated on .From the section Football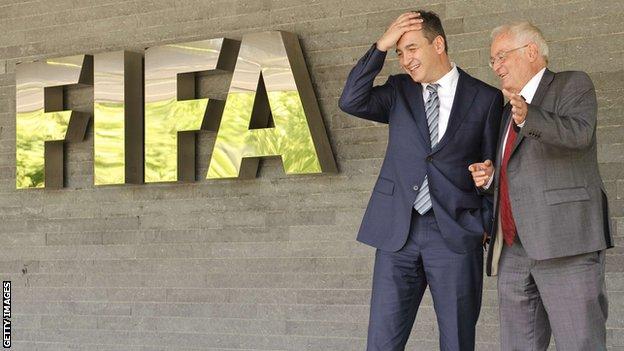 Fifa ethics judge Hans-Joachim Eckert and lawyer Michael Garcia have agreed to release full copies of reports into alleged World Cup bidding corruption to the organisation's compliance chief.
Domenico Scala will put selected evidence to Fifa's Executive Committee.
The body will then "evaluate which steps are required", leaving the door open to a possible re-vote.
Fifa is facing calls to publish all of Garcia's report after the release of a 42-page summary document last week.
The report cleared Russia and Qatar of corruption over their respective 2018 and 2022 World Cup bids, paving the way for them to remain hosts.
At a meeting on Thursday, Eckert and Garcia "agreed that it is of major importance" the Fifa Executive Committee has the "information necessary" to evaluate the work done by its Ethics Committee.
The role of Swiss-born Scala, the independent chairman of the organisation's Audit and Compliance Committee, will be crucial to the outcome as it will fall to him to determine "how much" of the information at his disposal he puts to the Executive Committee.
Eckert and Garcia have made themselves available to answer any questions from either Scala or the Executive Committee.
The statement also said a number of individuals have had ethics cases opened against them by Garcia.
It is not known how many people have had cases opened against them, or for what specific reasons. Fifa has also lodged a separate criminal complaint with the Swiss attorney general.
The statement added: "Neither the recent referral of the reports to the Swiss Federal Public Prosecutor's Office nor the request to the chairman of the Fifa Audit and Compliance Committee will interfere with those ongoing proceedings."
German judge Eckert, who published his summary document on 13 November, based his findings on the work of American lawyer Garcia.
Just hours after the document was made public, Garcia issued a statement questioning the report, in which he said Eckert's findings contained "numerous materially incomplete and erroneous representations".
And despite today's meeting, Garcia is still appealing Eckert's report.