Vincent Lunny: Q&A with former SFA compliance officer
Last updated on .From the section Football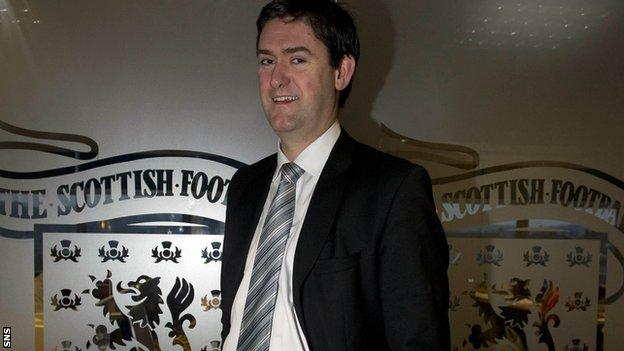 Former Scottish Football Association compliance officer Vincent Lunny has spoken publicly for the first time since leaving the role.
Lunny was the SFA's first compliance officer, and after three years in the role has left to train to become an advocate.
In a wide-ranging interview with BBC Scotland's Jim Spence, Lunny offered an insight into the role and some of the difficulties he faced trying to enforce the laws of the game.
Here are some of the questions put to Lunny, and his answers:
How would you explain the role of compliance officer?
"It's probably easier if I split it into two - the panel and how it's made up, and how I fitted in to that.
"The panel is made up of about 100 volunteers. They were from a broad spectrum of people from both football and non-football positions.
"From the football side there were some ex-players but not a great many, and we were always looking to get more to join the panel. A number of former grade one referees, who were particularly useful with regard to red card appeals. The third group from the football side were in relation to club directors, people from various clubs from all levels from the Premiership down to lower divisions.
"From outside football we had civil servants, solicitors, advocates, QCs, sheriffs and retired High Court judges, so a broad mix of legal and non-legal, with civil servants, businessmen, people from other disciplinary, tribunal backgrounds and panel members from other sports, who all brought their own experiences as judges and jurys effectively for the panel.
"Every case was run before a panel of three, they would be picked usually on the Monday or Tuesday, once we knew what the business was. They would sit and hear the evidence from my side and the club side, and come to a conclusion based on the evidence. I fitted into that effectively as the prosecutor. Where cases were brought to my attention I would prepare them and present them to the panel at the Thursday meetings and ask them to find the breach proved, and then proceed to sanction if that was appropriate."
Is the role and the panel's role at arm's length from the SFA as governing body?
"The panel, certainly yes, very much independent. They are volunteers, they give up their time freely because they love football and they are certainly at arm's length and I think the results where they go against the SFA, or against me I should say, are testament to the fact they are at arm's length. I wasn't at arm's length, I was paid by the SFA. Having said that, I was very much left to get on with the job and the decision whether or not to take the case forward was solely mine."
What about suggestions that there was 'trial by TV'?
"It was never the case. Trial by TV was an argument we had almost every year. With regard to the fast-track, the compliance officer, myself, was taking forward about a dozen cases a year, whereas the clubs were appealing red cards by TV evidence usually, in about 25 to 30 cases a year, so the video evidence was used by clubs to their advantage twice as much as I was using it to their detriment, effectively.

"If you look at it in the context of the annual turnover of cases, about a dozen were taken forward by me and I was processing about 300 cases a year, so a tiny percentage of the overall business. The vast majority of the work came through referee reports, usually in relation to manager misconduct on the touchline."
How did the system work in terms of reaching judgements?
"The system is based on civil proceedings as set out in the protocol and it was always set up on that basis. In all civil proceedings the standard is the balance of probabilities - beyond reasonable doubt is reserved for crimes because there is an awful lot more at stake and no matter how serious we take the football, and a lot is at stake in some of these cases, no-one's liberty is on the line, no-one is going to jail if they are found in breach of the protocol.
"It's difficult when it comes down to one person's word against another's and the panel have to be satisfied that the case is proved on the balance of probabilities."
Should the hearings be open to the public?
"I wouldn't be in favour of that. The panel members are unpaid, giving up their free time, and we saw following the Rangers case where panel members were named in the press, that there were repercussions from that and police were camped outside those individuals' doors for a number of days.
"In another case a panel member's car was vandalised after his name became known, and following that I'd be in favour of matters proceeding as they are. If the public were granted access I think it would turn into a circus."
Should the public be given an abridged version of the judgement and the findings?
"It's a possibility and it's something we looked at over the three years. Again the difficulty was we're dealing with volunteers as oppose to the FA, for example, where in Wembley the panel members are paid and there's an expectation they will produce written reasons for every case. It was something that was discussed and might be seen more frequently going forward if the case is serious enough or complicated enough."
How did you react to criticism from a manager in public?
"The first manager who had a pop at me was Terry Butcher. He came out of a hearing, 'kangaroo court' was mentioned and Terry wasn't happy. Our head of communications set up a meeting with Terry for him and me to sit down. For me, I was a bit star-struck, it was me and Terry Butcher having a coffee at Hampden so it was quite an experience. I sat with him and explained how the system worked and Terry came away with a changed view of the system.
"Terry was thereafter very positive, he would come down to all his red card appeals and latterly with a few of his cases, he would come in for his red card appeal with a ball under his arm, and re-enact the challenge in front of the panel on the carpet. I remember one where his player had been sent off for denying an obvious goalscoring opportunity and Terry was rolling the ball along the carpet, he had one of the panel members, who was about 70, up pretending he was the defender and Terry was trying to show the tackle. The rest of us were thinking 'he's going to kill him,' this guy's about 70 and Terry Butcher's going in to tackle him on a carpet, it's not going to end well. Having gone from being very critical of the system, Terry bought into it and used it to his advantage, as he should have done, where his players were wrongly sent off."
Was there more pressure with high-profile cases?
"It wasn't something I was used to with regard to the public pressure. Where that manifested the most was any time I was sending out a complaint, where it was a Neil Lennon or Ally McCoist case, in fact anyone in the Premiership, I was always extra careful over my spelling and grammar. The last thing I wanted was that in the public domain and not being able to write properly."
Do you think the average fan has a real understanding of the difficulty you faced?
"It's hard to answer that. My experiences were quite surprising to be honest, I got a lot of letters and emails over the three years and it always surprised me how polite most of them were, despite what you think about abuse, and there were things written on fan forums that were abusive and unpleasant and I tended to ignore them.

"They key things for fans to appreciate is that the SFA is simply, through the compliance officer, presenting a case. The Scottish FA doesn't decide the case one way or another, that's for the panel to do, who are as we said at arm's length from the SFA. If the fans understand that core element then they're a good way to appreciating what the job entails and how difficult it can be."
What advice would you give to your successor?
"Don't read the fan websites. Sit down in your office with the door closed, read the reports and make your decision based on your gut reaction as to whether there's been a rule breached or not, and process the evidence on that basis and take it forward."
How would you sum up your time in the job?
"A great experience, there aren't many jobs or opportunities you get that really change your career or your life and working with the Scottish FA as compliance officer was certainly one of them. In particular it was the only opportunity I was ever going to get of playing at Hampden, and for me that was the highlight of the three years."