Bolton Wanderers: Mark Davies out for four months with knee injury
Last updated on .From the section Football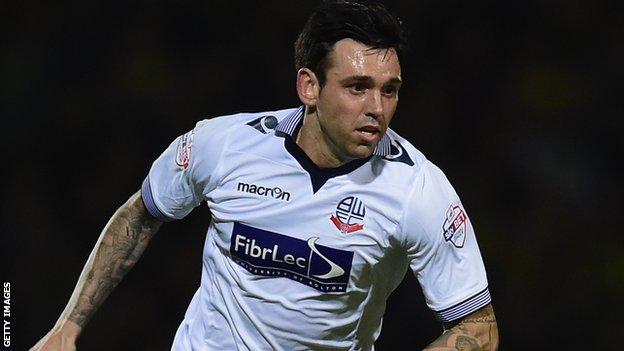 Bolton Wanderers midfielder Mark Davies has been ruled out for four months with a knee injury.
The former Wolves midfielder was also sidelined with a shoulder problem in 2012 but has featured in 11 games so far this term, scoring once.
"It's a huge blow for us obviously, and for the player, who has been working really hard," said boss Neil Lennon.
"When he came in on Tuesday it was swollen, but the next day it had gone and he said 'I feel ok, I think I can train'.
"The scan came back that there was damage behind the lateral side of the knee and it looks like he needs a microfracture.
"It looks like a procedure is going to be necessary," Lennon told BBC Radio Manchester.
Lennon also revealed his reasons for allowing striker Jermaine Beckford to join League One side Preston on loan for the rest of the season.
"We feel at this time that Jermaine isn't going to play on a regular basis, so I think it's best for both us and Jermaine," added the ex-Celtic boss.
"It's as simple as that. His attitude has been great around the dressing room, but he needs to go and play."