Post-match reaction: John Hughes and Kenny Black
Last updated on .From the section Football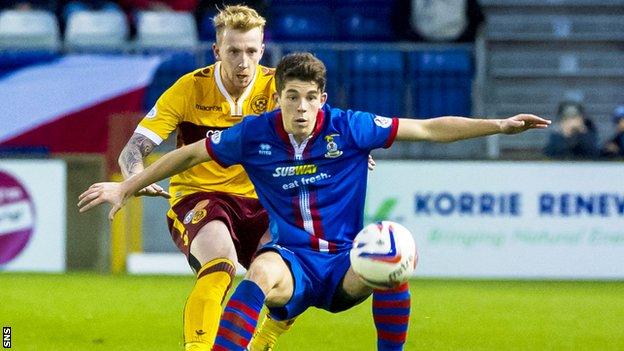 Inverness CT beat Motherwell 3-1 to stay level with Scottish Premiership leaders Celtic. Here are the post-match thoughts of both managers.
Inverness manager John Hughes: "I felt we dominated the football and were always on the front foot, but we need to pass it with a better purpose and belief, everybody take part in the game, and that was the case in the second half.
"It just shows you the strength we've got on the bench because I felt the introduction of Aaron Dorans and Nick Ross certainly swung it in our favour.
"Touch wood we've got the consistency this year and we need to keep driving forward and keep demanding off each other."
Motherwell caretaker manager Kenny Black: "To cause a threat you've got to move the ball a lot better than we did and you've got to pass the ball a lot better. Inverness over the 90 minutes were a lot more of a threat than we were.
"It's a concern because we've got good footballers at the club. A fortnight ago against Dundee United I was delighted with the performance. Today was the total opposite.
"We've got a big game coming up in the cup against Dundee United and that's something where we need to get back to showing a bit more like ourselves.
"You have games like that throughout the season but unfortunately for Motherwell we've had two or three too many."