Dysfunctional Rangers lose their must-win game at Hearts

By Richard Wilson
BBC Scotland
Last updated on .From the section Rangers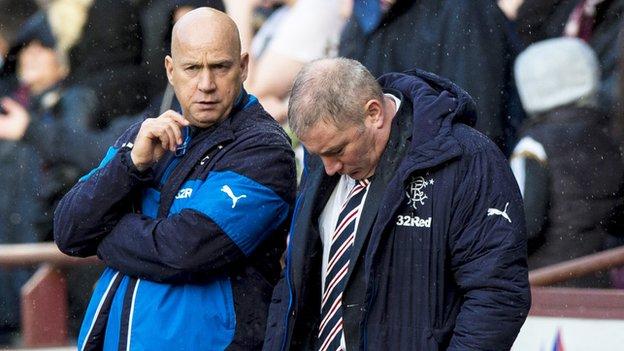 The glory of Hearts' victory over Rangers belonged to Robbie Neilson, but the focus was inexorably on the opposing manager.
Ally McCoist would have expected nothing less, although he must now feel as if the scrutiny is stalking him.
There is no sense of perspective to call upon when a team that expects to challenge for the title has dropped five points in the space of one week, three of them to the league leaders.
Hearts are now nine points clear of Rangers, and that gap is a graphic illustration of the persistent shortcomings of McCoist's team.
Where does it leave the manager? In a perilous position. Some fans have already decided that the evidence of almost two-and-a-half seasons of the journey towards the top flight is enough to condemn the manager.
When he replaced Lewis Macleod with Kris Boyd during the second half at Tynecastle, McCoist was barracked by members of the away support.
The criticism alone will not faze him; McCoist suffered worse during his playing days but overcame it with a sustained and triumph-laden spree of goals that established him as the club's greatest ever striker.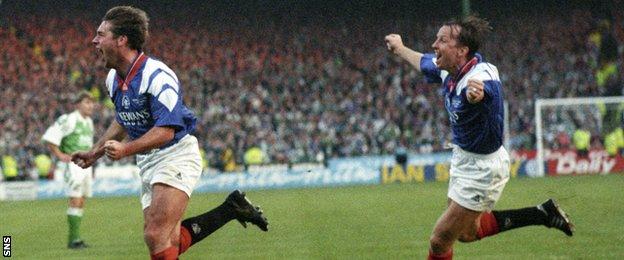 The adulation of those years will never diminish, but management is a different environment. Rangers must beat Hearts in both of their remaining meetings this season, and hope that Neilson's side also drops points elsewhere.
It is only November and no lead is insurmountable, but there have been plenty of indications that Rangers are failing where Hearts are succeeding - in teamwork and consistency.
Much of the occasion at Tynecastle was chastening for Rangers, even if the visitors were the more dominant side in the opening half, playing with determination and certainty. Yet Steven Smith's sending off for a recklessly uncontrolled tackle was only one of several misdemeanours from the Rangers side.
It was Hearts, with younger, less experienced players, who kept their heads.
The home side also started with six homegrown players. Rangers had two in Macleod and Smith, although the latter came through in a previous spell of his career and has since played elsewhere before returning.
Both clubs suffered financial collapse, but Hearts were not preyed upon by opportunists and the club has rebuilt quickly and effectively. Off the field, Rangers are still dysfunctional.
That has impacted on the recruitment strategy of recent years - there is still no scouting network - and McCoist has often had to manage resourcefully in that regard. Even so, the squad is populated by top-flight players and only Celtic have a higher wage bill.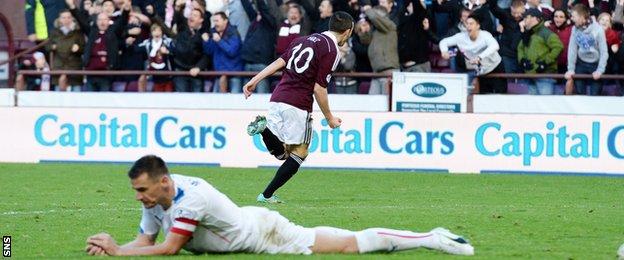 The sum of the parts should be more. Nicky Law, David Templeton, Dean Shiels and Kris Boyd are all players who were in good form for their previous clubs but have not reproduced if often or effectively enough for Rangers.
McCoist could point out that plenty of players down the years have failed to handle the switch to either half of the Old Firm, but Rangers have also been performing in a less pressurised environment, since there has been no real challenge in the lower leagues (albeit the support still demands that every game is won, and in some style).
Rangers were rugged, committed and, certainly at the outset, commanding at Tynecastle. Even at 2-0 down, there was no defeatism amongst the players, and McCoist could take heart from that.
Even so, while aspects of the performance were not damning, the circumstances were: Rangers went into the game six points behind and needed to win, or at least not to lose.
They had already lost to Hearts at Ibrox, and to Hibernian, while Alloa Athletic have twice held them to a draw. Those results constitute a damning critique of McCoist's management. He should be delivering better performances from this team.
Too often, it seems as though Rangers are reliant on individuals shining, rather than the team as a whole.
Fans gripe at the tactics and some of the selections - as fans always do in challenging times. McCoist would no doubt argue that Fraser Aird, Shiels and David Templeton have not grasped the opportunities this season to play so resoundingly well that the team could not do without them.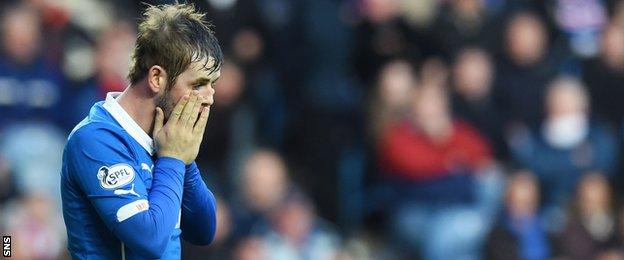 McCoist has to manage these situations, though, as the job is essentially about problem solving. He needed more support and better executive management of the club in recent years, but he also has to deal with the situation he is in regardless of the background to it.
Given that Rangers have no chief executive, no finance director, not enough plc directors and not enough money to last until the end of next month, there will probably be more pressing issues for the board to address.
McCoist has moved into last chance territory, though. Some fans have already made up their minds, and if he does not turn them back then the consequences are inevitable.
He has been too cautious at times, too reliant on tried and tested strategies. There was no timidity at Tynecastle, but Rangers still fell short, with some of the players letting their manager down.
The focus should be on Hearts and the accomplishment of their season so far, but the drama is at Ibrox.
Belief in McCoist is dwindling. In many cases it has vanished altogether. If he is to turn this situation round, it has to be immediate.