Kevin Walker: Sweden's Pop Idol winner now playing in the top flight

Last updated on .From the section European Football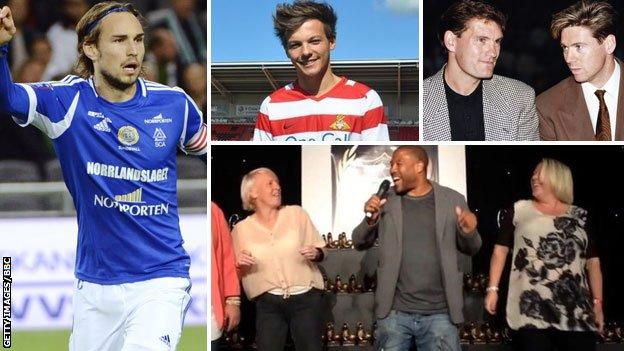 Some people are just greedy.
It is not enough for them to be adored, famous and paid handsomely for just one thing, they want more.
Thankfully, being properly good at two things is quite rare. Take football and music, for example.
Many have tried both, but when you look for gems among the back catalogues of these renaissance figures you are probably left with John Barnes's rap from World in Motion, Rod Stewart's trial for Brentford and the moments before One Direction's Louis Tomlinson was crunched by Aston Villa's Gabby Agbonlahor.
But that was before Kevin Walker.
Kevin who? Kevin Walker, the winner of the Swedish version of Pop Idol and new midfielder for Djurgarden in the country's top division, that's who.
"Yeah, there's been a lot happening," said Walker, cheerily over the phone from Stockholm.
"I've been a professional footballer for a while now, but music came into my life much later and now it's a passion. I just want to enjoy it all for as long it lasts."
He said this with a strong Irish accent on account of his dad being Pat Walker, a former Gillingham and Republic of Ireland Under-21 player who took his boots to Scandinavia in 1983 and liked it so much he stayed, keeping himself busy by managing six clubs in Sweden and Norway over the last 20 years.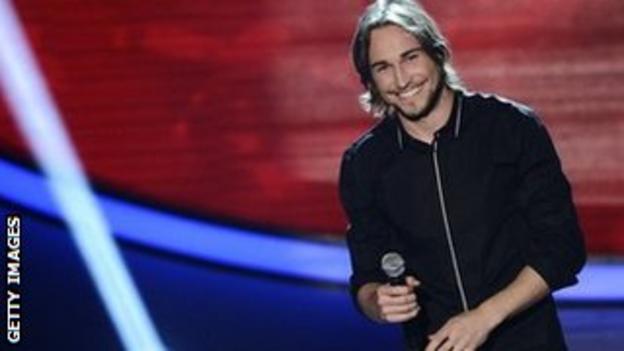 Marrying a Swede probably helped, too, and explains why Kevin, and his brother Robert, another footballer, can speak Swedish with Swedish accents. Or so he assured me.
"Definitely, but I speak French like Del Boy," he admitted.
Having a dad with a Uefa pro licence explains the football, then, but the music is a different story, a story with echoes of Julio Iglesias.
Julio who? Oh, come off it, Julio Iglesias the perma-tanned, best-selling Latin music artist in history and owner of a private airport in the Caribbean, that's who.
But before all that, Julio was a law student who also played in goal for Real Madrid's B team until a car crash left him unable to walk for two years. During his time in hospital, a nurse gave him a guitar to kill time. The rest is adult contemporary music history.
Walker's tale is that he came down with blood poisoning whilst on a Swedish U21 camp in Belgium in 2009.
Hits recorded by players
1979: Kevin Keegan - Head Over Heels in Love
1987: Glenn Hoddle & Chris Waddle - Diamond Lights
1990: Paul Gascoigne - Fog on the Tyne
1990: Paul Gascoigne - Geordie Boys
1993: Ian Wright - Do the Right Thing
1999: Andy Cole - Outstanding
He had already played for Sweden's U17s (making his debut against the Republic of Ireland in Dublin) and U19s, and had just broken into the first team at AIK, one of Swedish football's most famous names.
The illness wiped him out, costing him an entire season, but it did introduce him to the guitar. The rest is Swedish light entertainment history.
Having been reluctantly persuaded to perform at an open-mic night at a local casino, a wobbly video of Walker's performance found its way to the producers of Swedish Idol 2013.
They knew a crossover hit when they saw one, particularly one with an interesting back story, flowing locks and a ready-made fan base.
"I just thought 'why not?', but I had no ambition back then, and I had never been on stage before," Walker explained.
"But it just went mad. Before I knew it they were rearranging my games to fit in with the show, and I was singing at the princess's birthday party and doing duets with Robbie Williams.
"I think I got the hang of it in the end.
"But I never missed a training session and I played every minute of the season."
That campaign ended last month with promotion to the top flight for Walker's team, GIF Sundsvall, and a move to Djurgarden, 11-time Swedish champions and the third best-supported club in the land.
Walker describes himself as a "hard-working midfielder, who can spot a pass and score goals", and a "singer-songwriter with a modern take on it", and he has a recording contract with Universal to prove it.
So this is no Tomlinson-to-Doncaster-style stunt, and he is considerably more convincing as a pop star than Glenn Hoddle and Chris Waddle ever were.
Their Diamonds Lights might have reached number 12 in the charts in 1987, but it has been a regular in "the worst record ever" polls ever since, and their performance on Top of the Pops was described by one reviewer "as a timeless classic for all the wrong reasons".
At least Waddle had the self-awareness to be embarrassed by it, Hoddle later referred to it as "one of the greatest things I ever did".
'A musician's life is a lot easier'
Few agreed with him, and legend has it that when he was interviewed for the England job nearly a decade later, FA chief executive Graham Kelly asked him if he had "any skeletons in the closet… apart from that record with Chris Waddle".
Of course, it is a bit unfair to pick on "Glenn and Chris" when there are Kevin Keegan's "Head Over Heels in Love" and Paul Gascoigne's "Fog on the Tyne" to dissect, and who can forget Andy Cole's 1999 classic "Outstanding"? Oh, you all can.
From the other direction, no pun intended, nobody has really got that close to combining a music career with a sideline in soccer.
Westlife's Nicky Byrne spent a couple of years in Leeds United's academy as a goalkeeper, but his ability to sing close harmonies on chat shows proved better than his command of the six-yard area.
Indie guitar great Johnny Marr had trials with Manchester City and has claimed Brian Clough's Nottingham Forest were "sniffing about", but the fact he wore eyeliner on the pitch probably reveals he knew where his true calling lay.
The same can be said of Stewart and his famous flirtation with football.
"A musician's life is a lot easier," he later wrote. "And I can also get drunk and make music, and I can't do that and play football."
So Walker, the tough-tackling troubadour, is in a subset of one, making him the only man who can really answer what is better: scoring a goal in front of thousands, or hearing thousands sing the words to one of your songs back at you?
"Ah, they're two completely different things," he revealed.
"And I'm privileged to do both."