Post-match reaction: Derek McInnes and Alan Archibald
Last updated on .From the section Football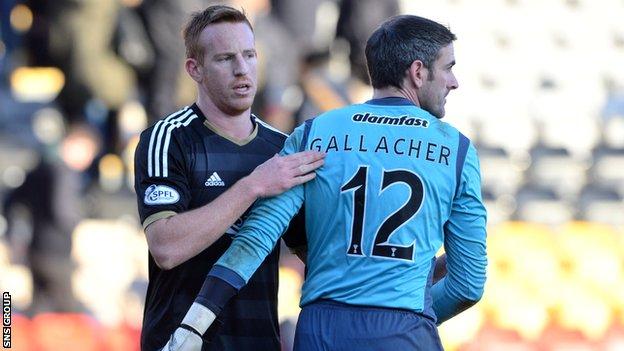 Aberdeen win 1-0 at Partick Thistle in the Scottish Premiership. Here are the post-match thoughts of both managers.
Adam Rooney's first-half penalty moves the Dons to within four points of leaders Celtic, while the home side were aggrieved that the spot-kick came from a disputed corner.
Goalkeeper Paul Gallacher pushed the ball wide after an offside David Goodwillie had ducked under Cammy Smith's delivery, which bounced over his head towards the top corner.
Aberdeen manager Derek McInnes: "The important thing was winning because the players played well against Celtic. Today we weren't at our best but we deserved to win and we made sure we did win with enough good performances.
"We are two points better off than we were at this stage last year. That will probably surprise a few people but that is the case.
"I still think there is room for improvement and we will work hard to get that improvement.
"[on the penalty award] Goodwillie has not touched it so I think the debate's over.
"I thought it was a corner and I don't think anyone was really debating it too much.
"It's quite ironic because Celtic got their winner against us after a corner when it was two goal kicks. Sometimes you get the decisions and sometimes you don't. I thought it was a penalty and a corner.
"I've not seen it again but my first reaction was a penalty. We had a header going towards goal and a Thistle hand clearly stops it."
Partick Thistle manager Alan Archibald: "Gall thought he was offside. He was offside obviously. I know the rule is he has got to make a movement towards the ball but at the very last minute Goody just moves his head and ducks a wee bit.
"Gall can't move until he knows what the striker is going to do.
"It's an awful rule but we have got to deal with it and we didn't deal with it after that.
"I think it maybe shook us a bit at the corner and Abdul Osman has lost his man and it's a handball.
"We had two good chances and we should have taken them. We didn't work the goalie.
"They are a hard team to play against when they go 1-0 up and they defend very well. But to create two good chances like that in the six-yard box, you have to take them.
"I thought we were poor first half but caused them more problems in the second half."